Below is a collection of 10 simple ways to convert your visitors into customers that will only require some effort using simple techniques that you can get started using today.
TLDR;
Ensure your website is user-friendly and fast to load
Offer a strong value proposition at the top of your page
Use social proof to your advantage to give an impression your visitors are not alone in the purchasing decision.
Make it easy for visitors to contact you to show there is a human on the other end.
Use high-quality product images and descriptions to provide a strong and professional image. This can help build trust.
Offer free shipping or other incentives to encourage more purchases and fewer abandoned carts.
Use scarcity and urgency tactics to make your visitors feel like they have found something exclusive.
Make the checkout process as seamless as possible so your visitors have less of a reason to abandon their purchase and will be happier with how easy it was.
Use retargeting to bring visitors back to your site, retargeting reinforce your messaging around the web and gets your visitors thinking about your brand.
Follow up with abandoned cart emails and notifications to remind your visitors of the item they can still purchase.
So let's get into the more detailed breakdown of each item, within each point I have tried to link to some respectable source to allow you to dig deeper into how real companies have used these tactics and strategies. Also, feel free to share this article or contact us on Twitter or LinkedIn.
1. Make sure your website is user-friendly, easy to navigate, and fast.
A cluttered or confusing website can drive visitors away before they even have a chance to consider purchasing from you. It is vital to ensure your homepage is clear and straight to the point, once a visitor arrives at your website from Google or another search engine, your homepage has around 5 seconds to let them know this is the page they are looking for, if not they will press the back button and move to the next result.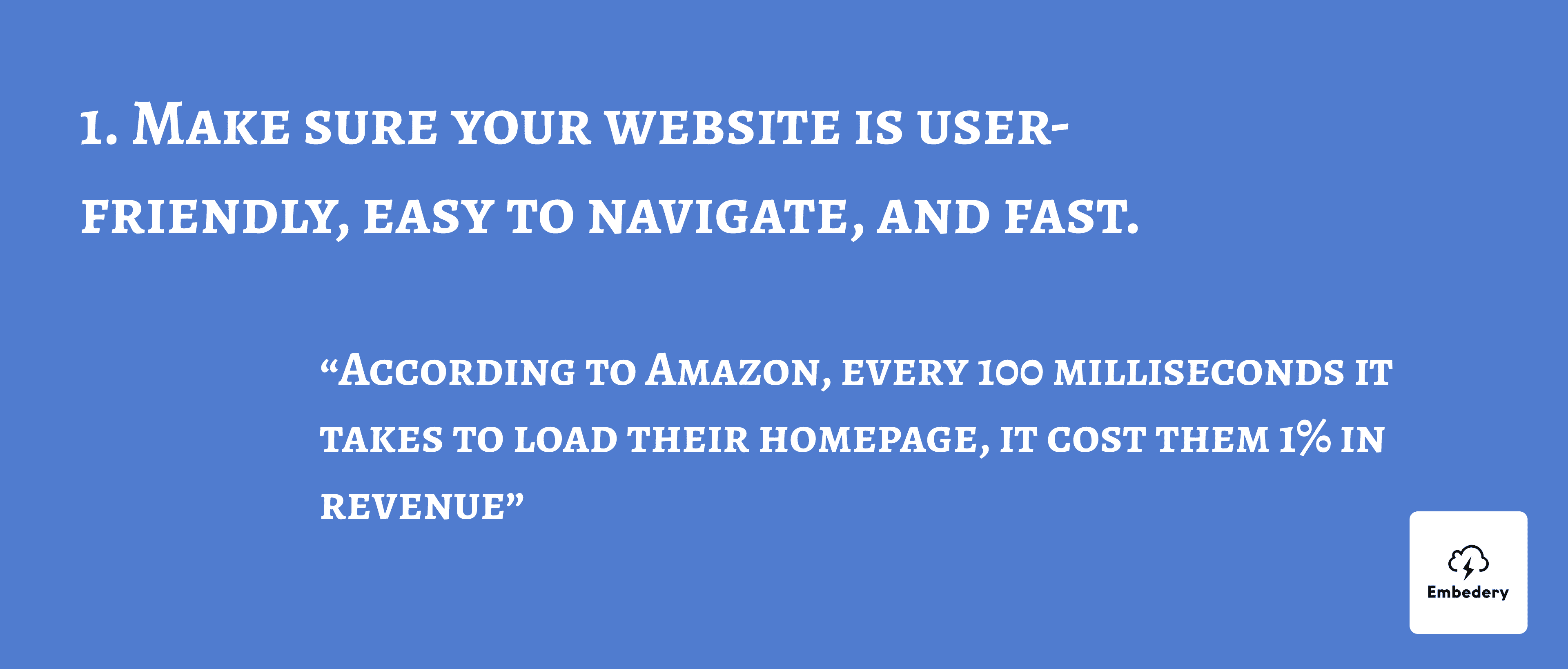 According to Amazon, every 100 milliseconds it takes to load their homepage, it cost them 1% in revenue. Source
To help with converting your visitors into customers you need to ensure the navigation is easy to use, this is doable by providing your main website sections at the top of your webpage for desktop, and providing a hamburger-type menu for mobile as to be accessible for mobile users without clustering their mobile screen.
2. Offer a strong value proposition.
Make it clear to visitors why they should choose your company over the competition. It's important to focus on good copy for your webpage, ensure the language makes sense, and that you are providing a clear message to your visitors. There's nothing worse than landing on a page and the core message of the page is disconnected from what you are looking for.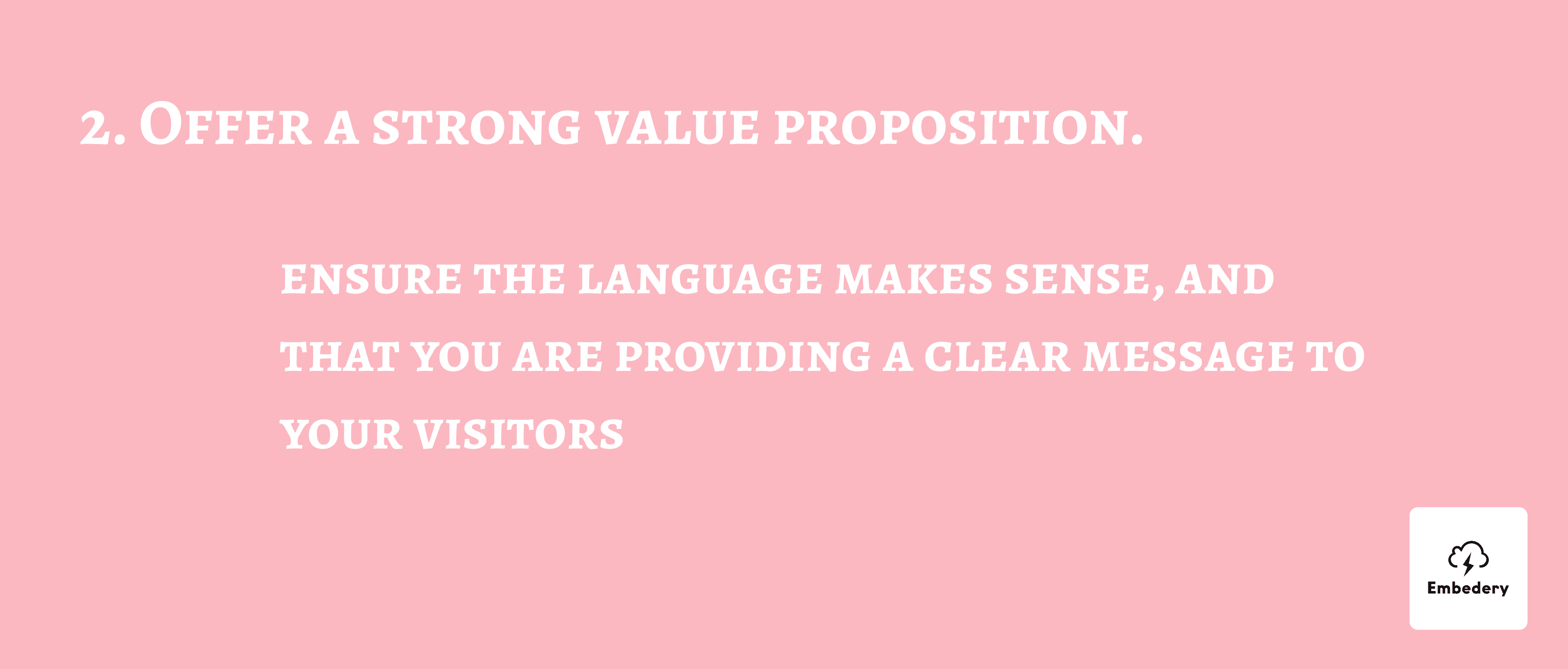 So spend some time on the text (copy) of your page, focus mainly on the fold (the banner), and ensure it aligns clearly with what your business is selling.
If you are an e-commerce store, then it may be worth promoting your most popular products on your homepage to help your visitor easily find the product they are looking for and in turn convert the visitor into a customer.
For further reading, here are some great examples of strong value propositions you can take some inspiration from.
3. Use social proof to your advantage.
Display customer reviews, testimonials, and trust badges to show that other people have had positive experiences with your company. This is a great strategy that involves advertising on your website so that other visitors that have converted into customers have found your product and business to be great.
You can easily implement some solutions here to gather reviews and show in-page activity.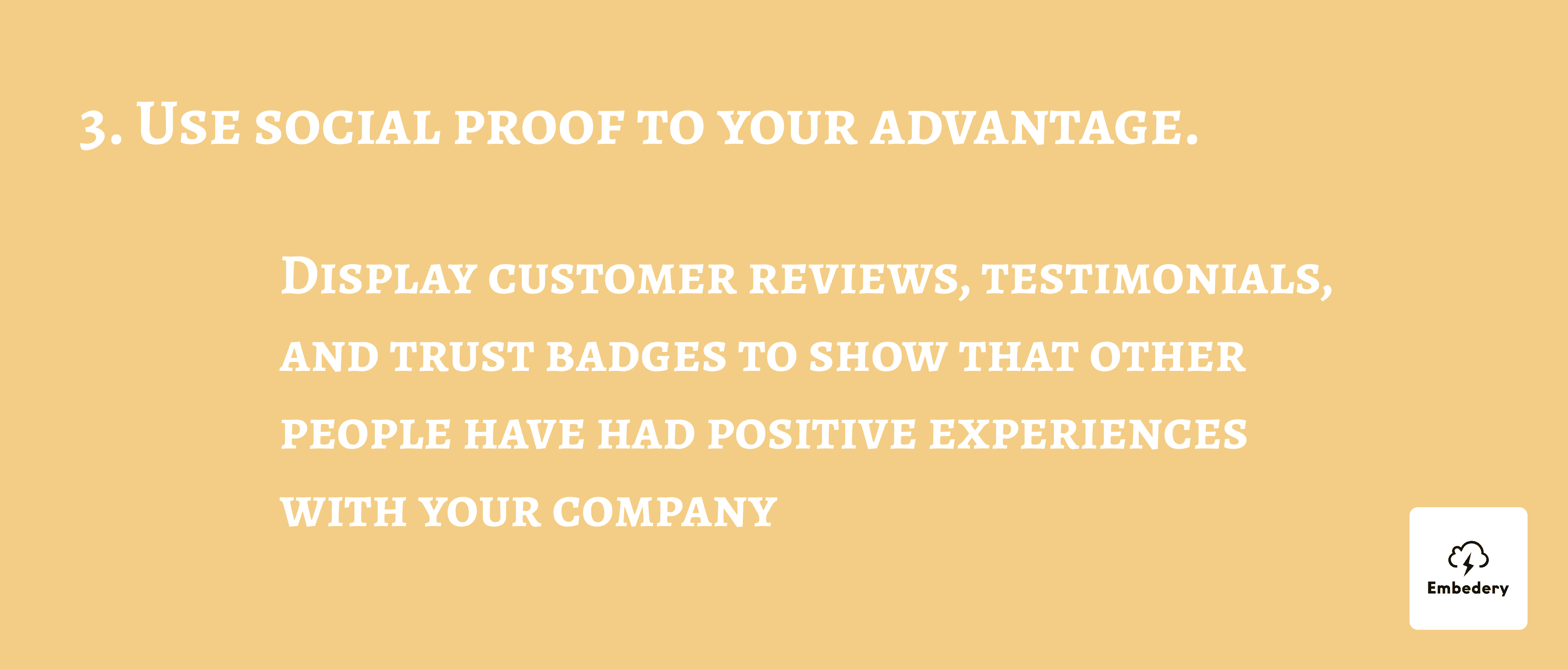 For the gathering of reviews, you can:
Send an email after the purchase
Ask a customer to submit a review
Once submitted you can then show it off on your webpage along with making reference to the customer.
This approach works great on pages where your visitor is making the purchasing decision, they are looking for evidence to prove that this is a great decision and one they should pursue.
With in-page activity, you can implement social proof notifications, such as the Embedery solution found here. This approach will listen for events from other customers and then inform future visitors of the activity on your website.
Some examples of in-page activity may include:
Recent purchases
Locations of purchases around the world
The number of visitors who have visited a certain product or/and page
Customers who have left a high rating review
Provide multiple methods of communication, such as a phone number, email address, and contact form. It's up to you and how your business operates, but you should ensure a representative from your business is easy to contact.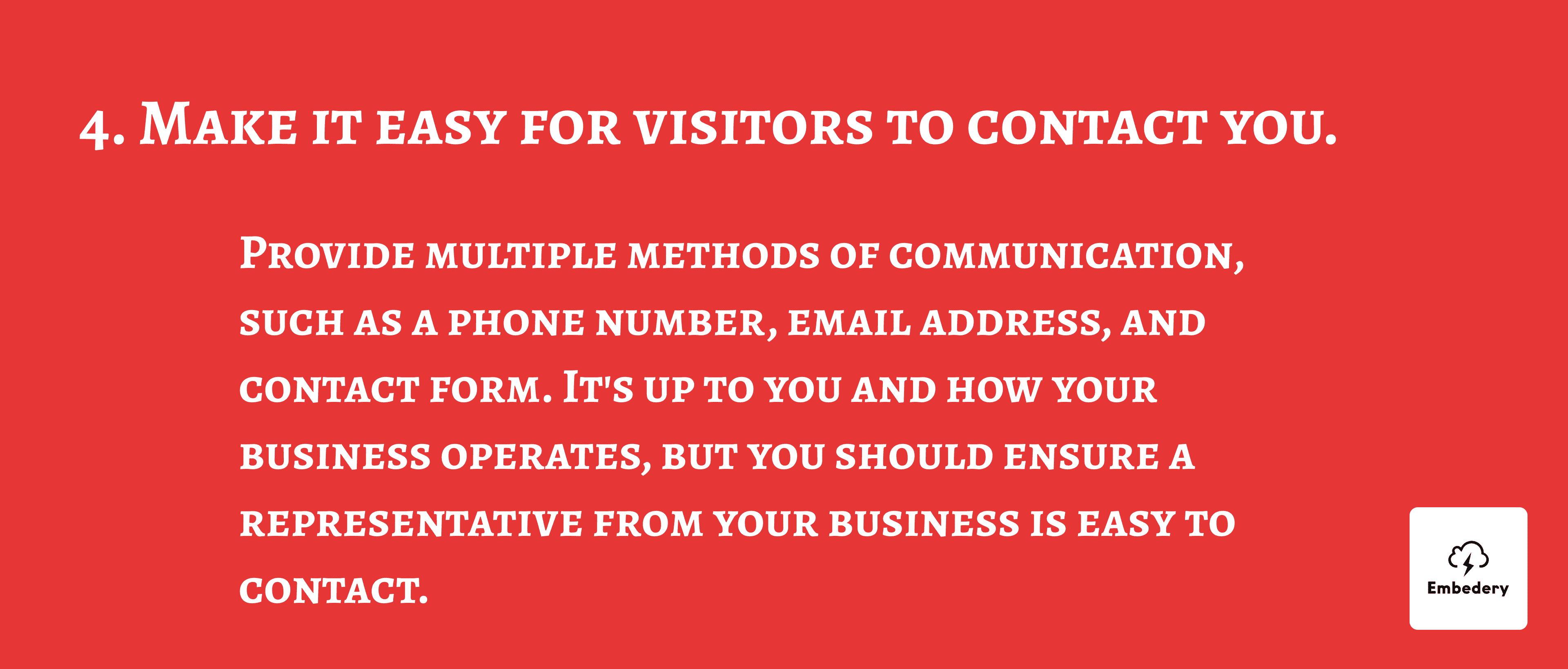 Some ways you can make it easy for visitors to contact you could be to:
Provide a contact form along with a textbox for the person to enter their reason for contact
Advertise an email address, the person can use their email easily to contact you
Provide a chatbot, either with live chat or with some artificial intelligence layer that tries to help resolve the query. These work great and are becoming more and more popular.
A phone number, this is the most expensive approach since you need an agent to handle the call, but this is the most direct form of contact.
Book a meeting, another approach could be to provide a form to book a meeting, perhaps over video call.
5. Use high-quality product images and descriptions.
Customers want to see what they're buying, so give them as much information as possible. Using high-quality images to show off your products is essential, it helps build trust that your business is legit and you have a high level of attention to detail.
It is also important to ensure your descriptions are clear and well written, if you are selling something technical, ensure you are clear and mention information that the potential customer needs to help ensure they have the confidence that this is what they are looking for.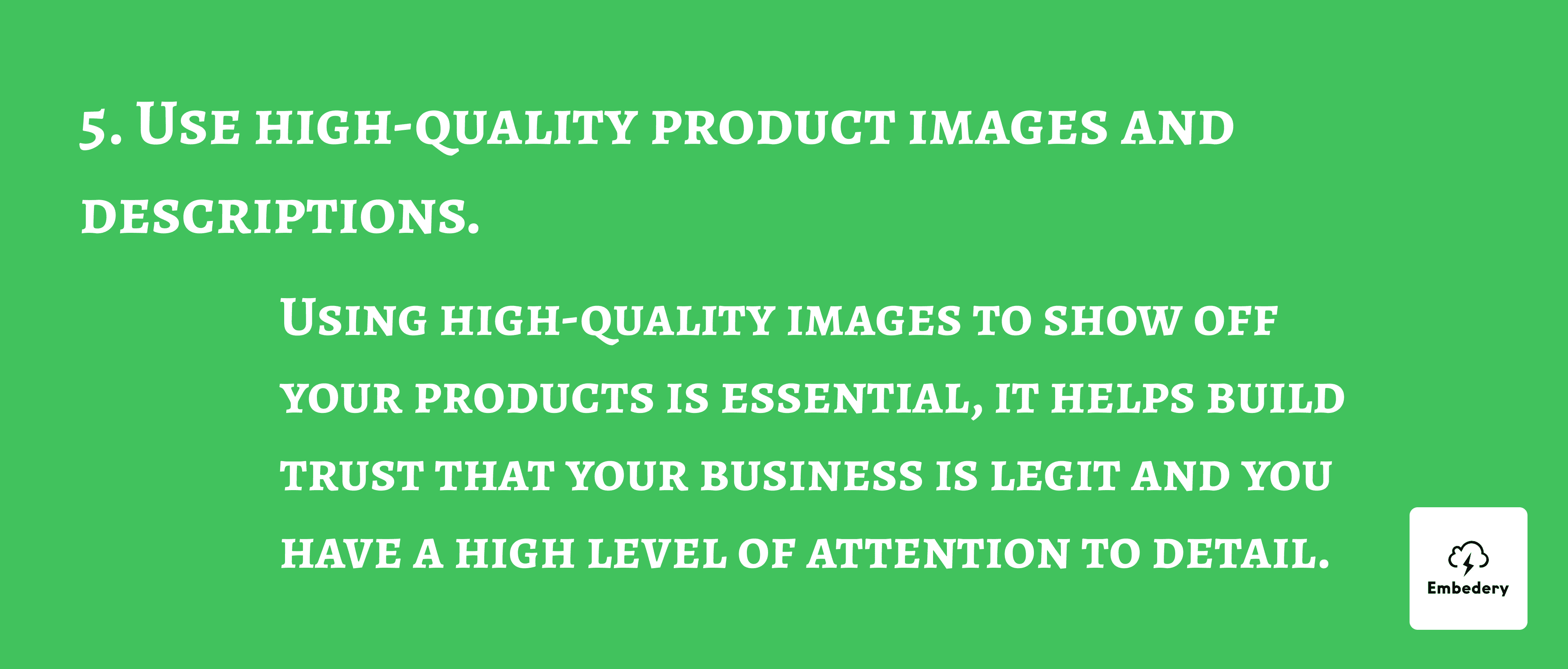 A great example of the importance of high-quality imagery is Airbnb, they found that up to 20% more people booked if the images were of high quality, you can find out more here about this.
One last way that really helps is to provide a video, either one showcasing your product or one of an influencer reviewing the product, this can really help convince and drive more visitors to convert into customers who not only made the purchase but will be happy they did and may leave a great review that you can use to help drive more sales.
6. Offer free shipping or other incentives to encourage purchases.
Customers love freebies, so consider offering free shipping or discounts on your first purchase. Especially when they have some items sitting in their shopping cart, you want to drive the visitor to want to check out in the same session so they don't consider leaving your website and revisiting later.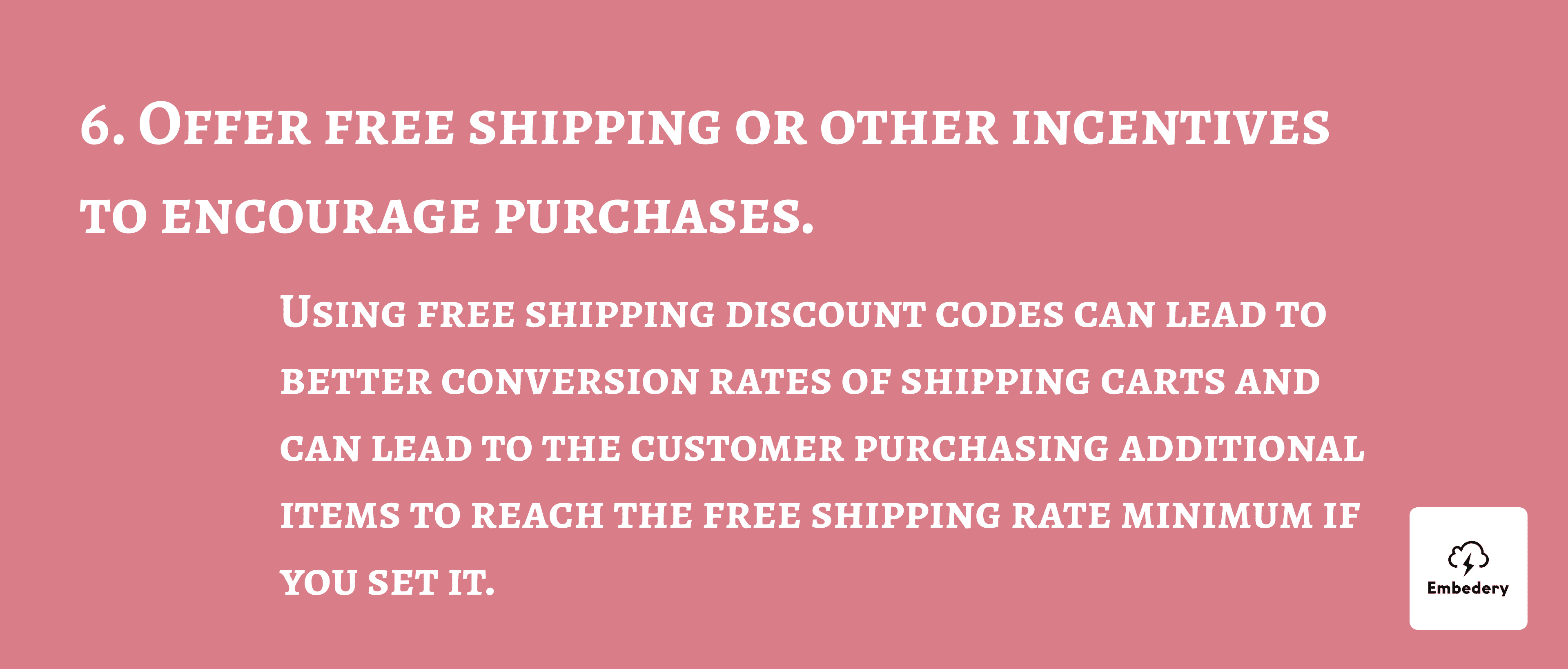 Using free shipping discount codes can lead to better conversion rates of shipping carts and can lead to the customer purchasing additional items to reach the free shipping rate minimum if you set it.
According to research from Shopify, 58% of customers expect free shipping, you can read more here.
7. Use scarcity and urgency tactics.
Let visitors know that they need to act fast if they want to take advantage of a limited-time offer or a product that is in high demand.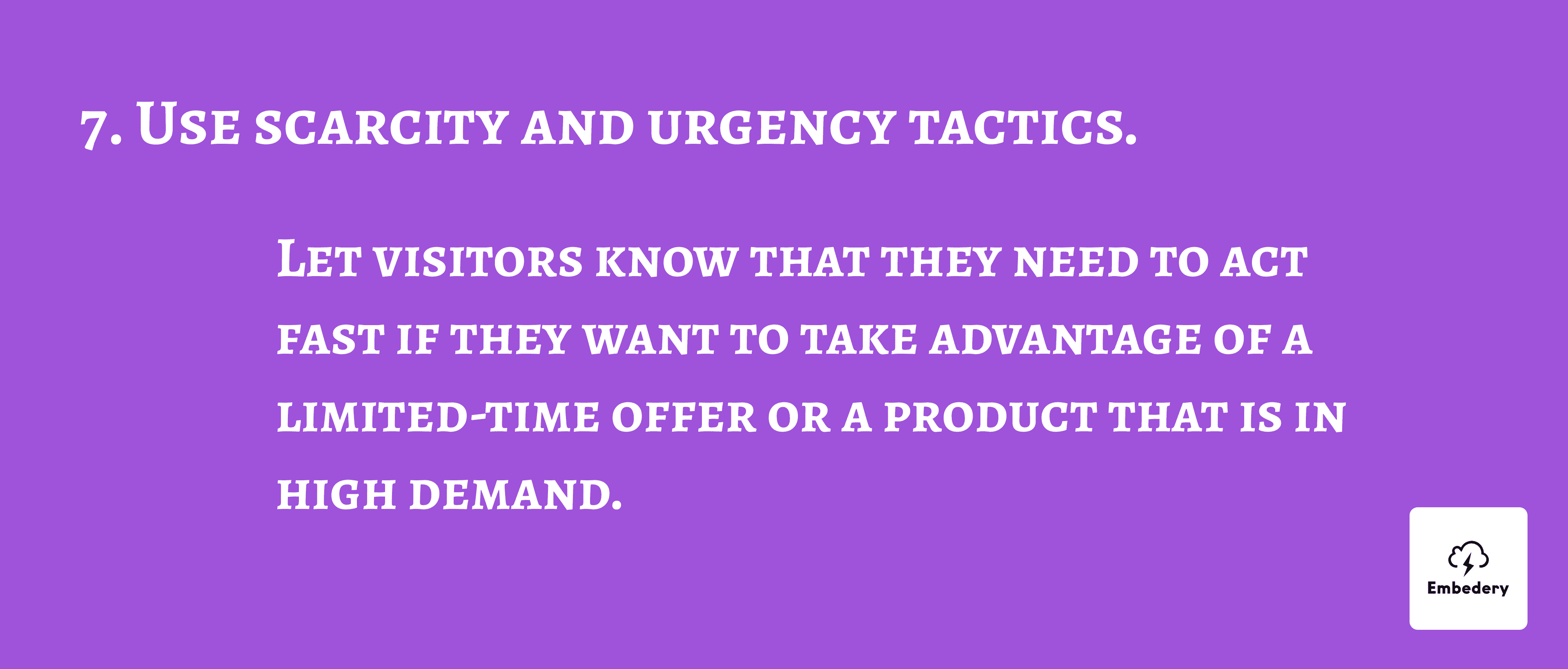 This can be a great way to also convert traffic into leads, you could provide some exclusive offer for the visitor to sign up with an email address, and once signed up you could then provide them either access to a discount code for a future purchase on your store or access to some high-quality content depending on your business. Once you have a lead you can then focus on how to convert the lead into a valuable customer.
8. Make the checkout process as seamless as possible.
The fewer steps between the customer adding an item to their cart and completing the purchase, the more likely they are to follow through. You want to ensure your checkout flow is easy and has no issues, if a customer struggles to get through your checkout flow they may abandon and never continue the purchase.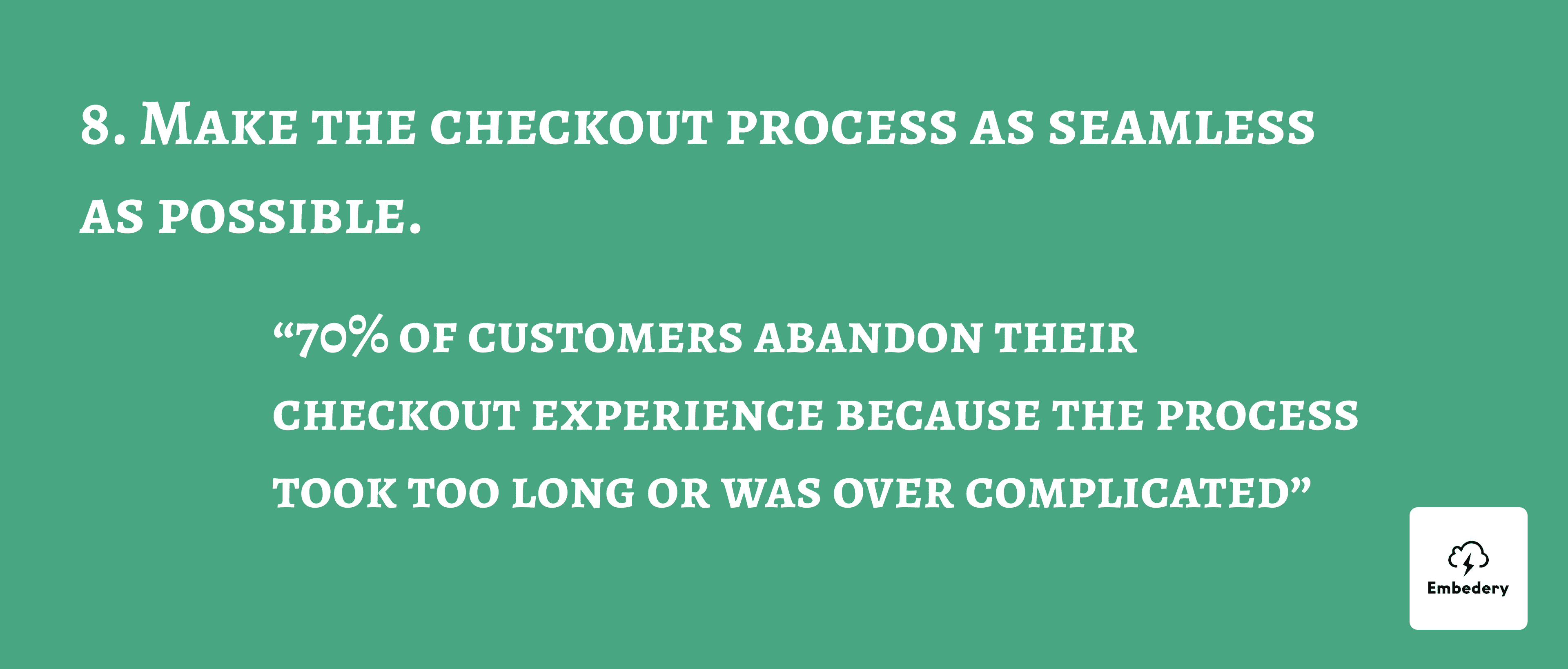 Some great examples of a seamless checkout flow can be seen in Shopify stores and on Amazon.com. Companies like these focus a lot of time and energy on providing the most seamless experience as to maximize the full potential of a customer completing the flow.
It is important also to note that 70% of customers abandon their checkout experience because the process took too long or was over complicated. Even optimizing the payment experience is crucial.
9. Use retargeting to bring visitors back to your site.
If a visitor leaves your site without making a purchase, you can use retargeting ads to show them relevant products and encourage them to return.
This is a very effective strategy and works quite well with Google Adwords. According to this report by Google, a company called Tirendo increased its conversion rate by 161% thanks to remarketing strategies. Read more here about it.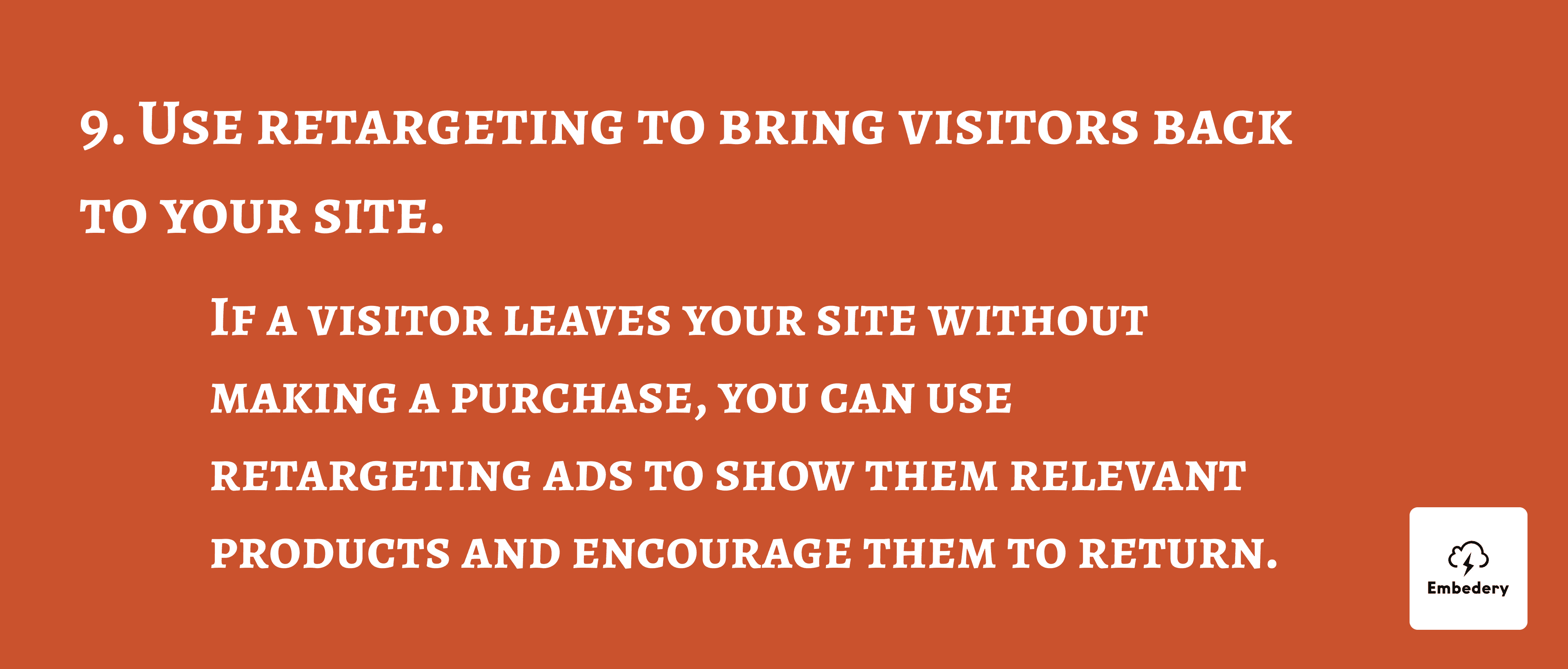 With retargeting on the Google ecosystem, your brand is shown in the Search engine result pages (SERPs) based on the query of the potential customer. The customer may glance at your advertisement and may continue researching to find more specifically what they are looking for. Once they visit another Google property like YouTube, they can be reminded of your brand using a 5-second video, which may be enough to convince the customer to be transformed from a visitor into a customer for your brand.
10. Follow up with abandoned cart emails and notifications.
If a customer adds items to their cart but doesn't complete the purchase, send them an email with a special offer or a reminder to finish the checkout process. This can be an effective way to convert visitors into customers.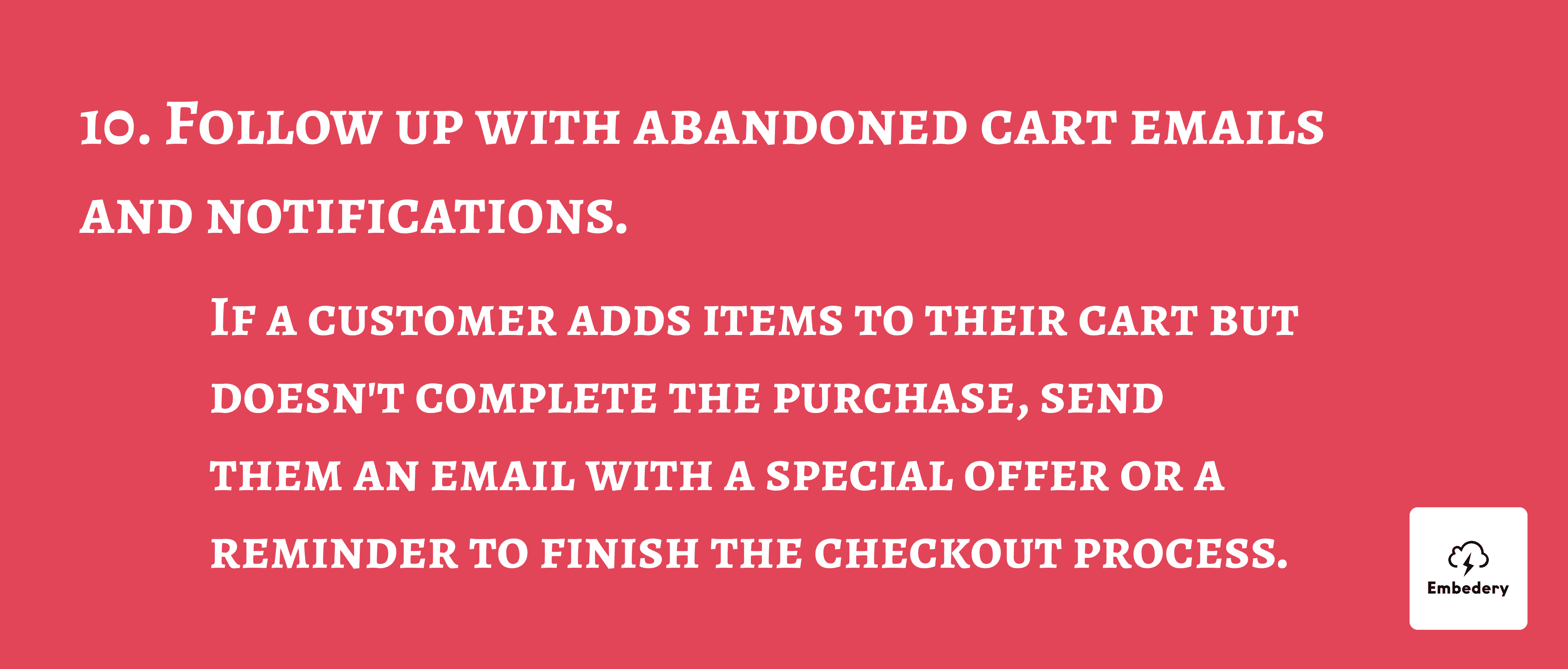 Implementing something like this is easy using a customer engagement platform like Embedery. With this type of solution, you can build an experience around your brand to increase sales, convert more visitors into loyal customers, and have deeper engagement. It is important that your brand has a strong relationship with customers and potential customers to ensure further growth.
Conclusion
So there are a few ways to help you start converting more visitors into customers. At Embedery we focus on providing these solutions out of the box to help make your business more effective, check out our product pages to learn more.