This is a list of the best builders in our opinion that you should check out for your new e-commerce store.
In this list, we will break each entry down by:
Quality
This section will talk about the overall experience, is it well made, how well designed is it, can you do X with it, etc.
We want to only promote the solution we believe is of the highest quality that you will help you fully build your dream store.
Popularity
Another important point is the popularity of the builder, does it have a lot of support, are there many themes to choose from etc.
When working with a builder, you will experience the full scope of the builder, you will see its flaws as well as its greatness. So you will run into a situation of Googling, "How do i do X with this builder?". With a good size community, you will quickly find the answers to your problems along with an engaged community will to help you.
Price
And finally the economics of the builder, does it make sense for your business. Some solutions can be expensive, but provide a lot of value out of the box along with very good premium support, while others may be free but instead have a massive community who have already posted the answer online.
So in this list, we hope to give you some suggestions to help you with getting started along with being happy on the decision.
1. Shopify
Starting with Shopify, this is a great solution to run an online store. Their overall experience is very simple and user-friendly along with providing enough functionality to help you do what you need to successfully manage your store.
On top of the core product to run your business, Shopify also provides an extensive collection of plugins and apps that can extend your website and the admin to fulfill different problems specific to your business.
The Shopify website editor is simple yet powerful enough to allow you to design the page you want. Shopify website pages are constructed using blocks. Each block can be selected and customized using a simple editor . You can easily drag and drop the blocks around.
Quality
In terms of quality, Shopify is great and highly recommended, not only does it help you build a great online website for your store, but it also provides the core management system to help you run your store. From handling pricing with taxes all the way to inventory management.
The website editor is also simple enough for any non-technical person and provides enough functionality to design the ideal website. Also depending on the theme chosen for the website, you may have access to more advanced and powerful blocks.
Popularity
Shopify is one of the most popular solutions on the market for building, managing, and promoting an online store. There's tons of support online in different forums, including the official Shopify forum for questions and answers. And on top of the support, there is a massive plugin and app eco system of companies developing powerful solutions to extend Shopify stores in many different ways.
Price
Shopify starts at 29 USD per month, which seems more expensive than some alternatives. But once you start thinking about all the pieces Shopify provides to you, it starts to quickly make sense. Some of the pieces would include security, a full-store management system, fraud prevention, many payment options, and easy extension using a massive app store.
Shopify also has transaction fees for credit case processing of 2.9% + 30 cent USD.
We also did a special article on the best Shopify apps, check it out.
2. Squarespace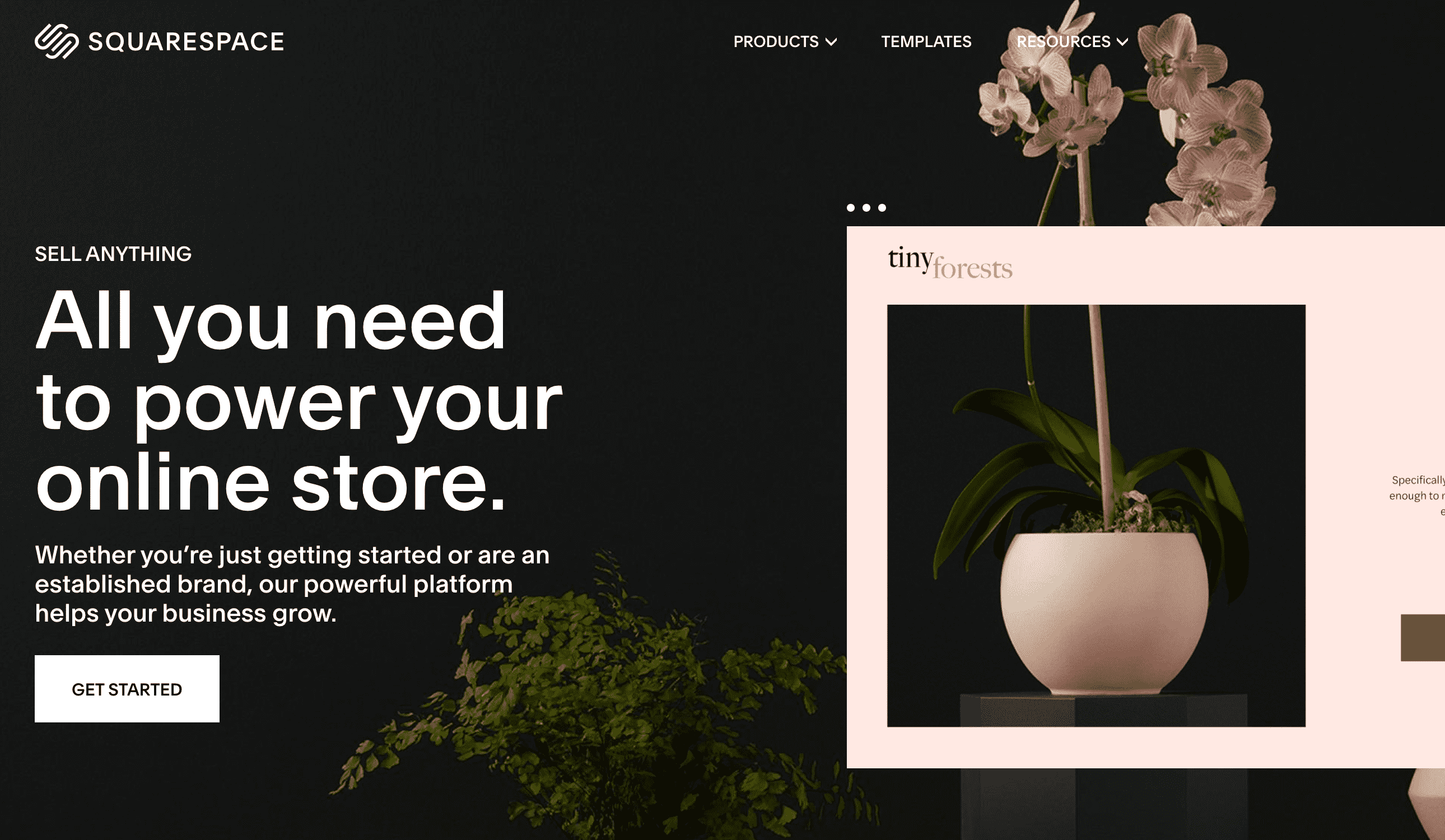 Squarespace has been around for a while and is a player who is quickly dominating the online website builder space. One thing that's great about Squarespace is the quality of their websites, they clearly put a lot of effort into the overall quality of their product while keeping it minimalistic.
Their website editor tries to keep out of the way and encourages you to try to immerse yourself into your website, to focus on the alignment of your content and the overall design of the page.
Recently Squarespace has been investing more into extending the core website to be more, this includes adding support for the blog and extending the capabilities to provide an online store.
Quality
Squarespace have an amazing team focused on building a high quality solution. For quality Squarespace would be one of the best options, their unique approach on design and minimalism along with their strong support coverage makes it a great option to choose.
Popularity
Squarespace is quite popular, but less so for running an E-commerce business, you would easily find support around customising your website and working with the builder, but less so online coverage around the E-commerce side.
Price
Squarespace offers a basic plan at 12 USD per month if paid annually (16 USD if not)
But for a store, you'll need to get their Business plan starting at 18 USD per month if paid annually(or 26 USD if not) with a 3% transaction fee for credit cards.
The plan is not fully featured but offers quite good features to run a basic E-commerce store.
3. WooCommerce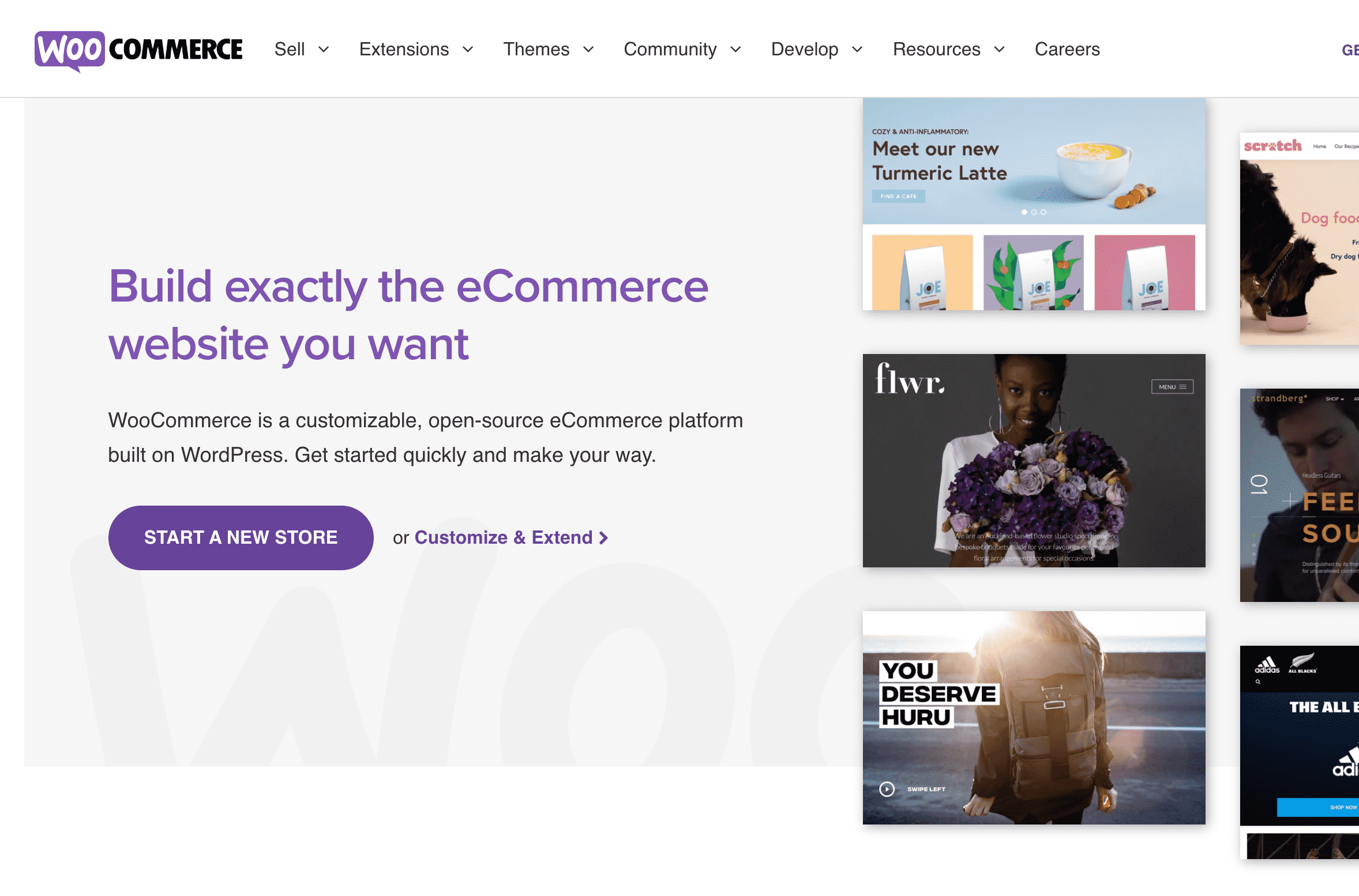 Next on the list is WooCommerce, this is a great solution if you want something with tons of control but the burden of managing it yourself, the WooCommerce is what you are looking for.
WooCommerce is a plugin for WordPress, the popular CMS you can host yourself or with some provider. Just be aware that it will provide tons of flexibility and you'll be able to do anything you like but at the cost of not having a strong support team dedicated to helping with you along with advanced security.
There are some packages Wordpress.com provide that helps with this, but it may feel like an addon than having a dedicated company focused on building a powerful E-commerce solution.
In terms of the website builder, you will need to understand how to modify code, like HTML, CSS and JavaScript. There are some plugins available you can use to drag and drop blocks to construct pages, but another article would be needed to list the best options there.
Quality
Quality depends, its an open source project so is maintained and supported by the Wordpress team along with those who use it on a daily basis with some technical skills.
If you want a lot of control and freedom over building the entire experience it is a great option. But you may need people thinking about how it works and maintaining your website to keep business as usual.
Popularity
You will find tons of online support around WooCommerce, mainly thanks to the WordPress community and the support of open source.
Price
It depends, if you host yourself it can be as cheap as 10 USD per month, if you look into Ecommerce plans by Wordpress.com, they start at 45 USD if paid annually.
4. BigCommerce
One of the bigger players in the online store space they provide one of the most complete solutions targeted at E-Commerce stores. They provide a complete solution for any sort of store along with multi-channel management, to allow you to easily sell your products in multiple channels, like Instagram, Facebook, your website plus others.
On top of providing a complete admin for non-technical people to manage day to day tasks, they also provide a powerful API engineers can work with to build any website you wish.
Quality
The Bigcommerce is full featured and quite easy to use, for building a website they provide tons of customisable themes that can be extended and customised using the block based editor. The editor is quite detailed and provides tons of functionality that may be a little overwhelming at first but overtime you learn how to master the editor.
On top of providing a power drag and drop page editor, BigCommerce also provides a lot of the other important pieces of running an E-Commerce business, like getting traction, they have integrated solutions to help you drive more traffic and convert more visitors into customers.
It's a great well rounded solution for any size store.
Popularity
BigCommerce is a solution that has been around for a while, they provide great support online with a complete and high quality app store.
If you have an issue with their system you would easily find an answer.
Price
Starting at 29.95 USD per month, they provide a lot out of the box. Along with 0% transaction fees, which is very attractive.
The only limitation per plan is the amount of revenue your store is creating, if you produce a certain amount it can help you decide on what the most ideal plan is.
5. Wix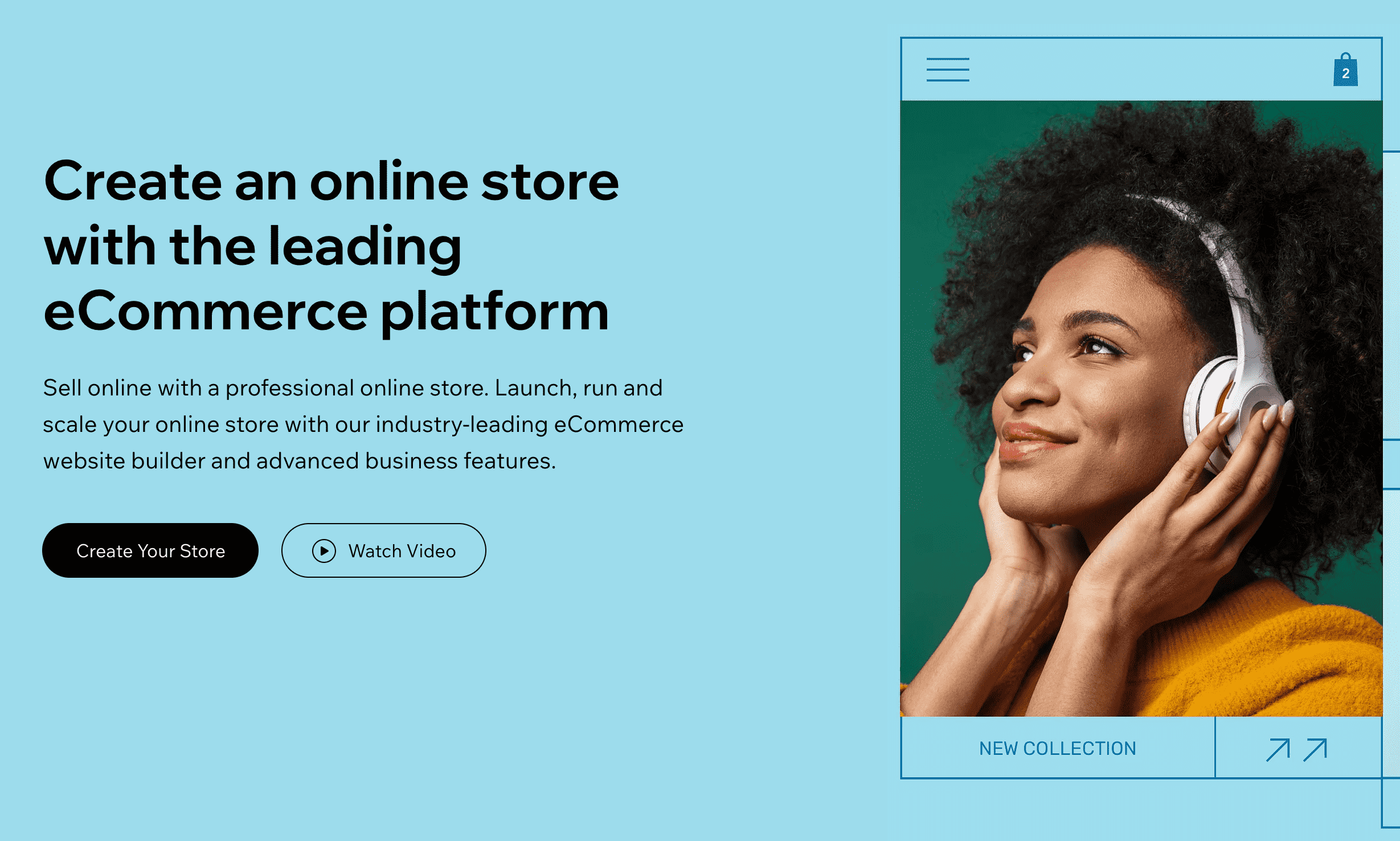 Wix is one of the ultimate website builder solutions available online. They provide all the tools you need to quickly build your perfect website. They have recently invested more into providing E-Commerce features.
So if you want a solution where you can design any page using a drag and drop editor along with being able to sell your products, then Wix is a great choice.
Quality
Wix is a great option, their websites are well built and allow the owner to design any webpage they wish. Although in terms of managing your business, it may be a bit more limiting compared to alternatives. Wix is a website builder first and anything else second. So its a great option to create an online presence to show your products to potential customers.
Popularity
Wix is a very popular platform used by millions of people, they provide a lot of support online and their support is quite good. Its a good platform where you should have no trouble getting help.
Price
Starting at 17 USD per month, they provide quite a lot of features around E-Commerce and higher plans for more special features that may be more particular to your business and what you are selling.
6. PrestaShop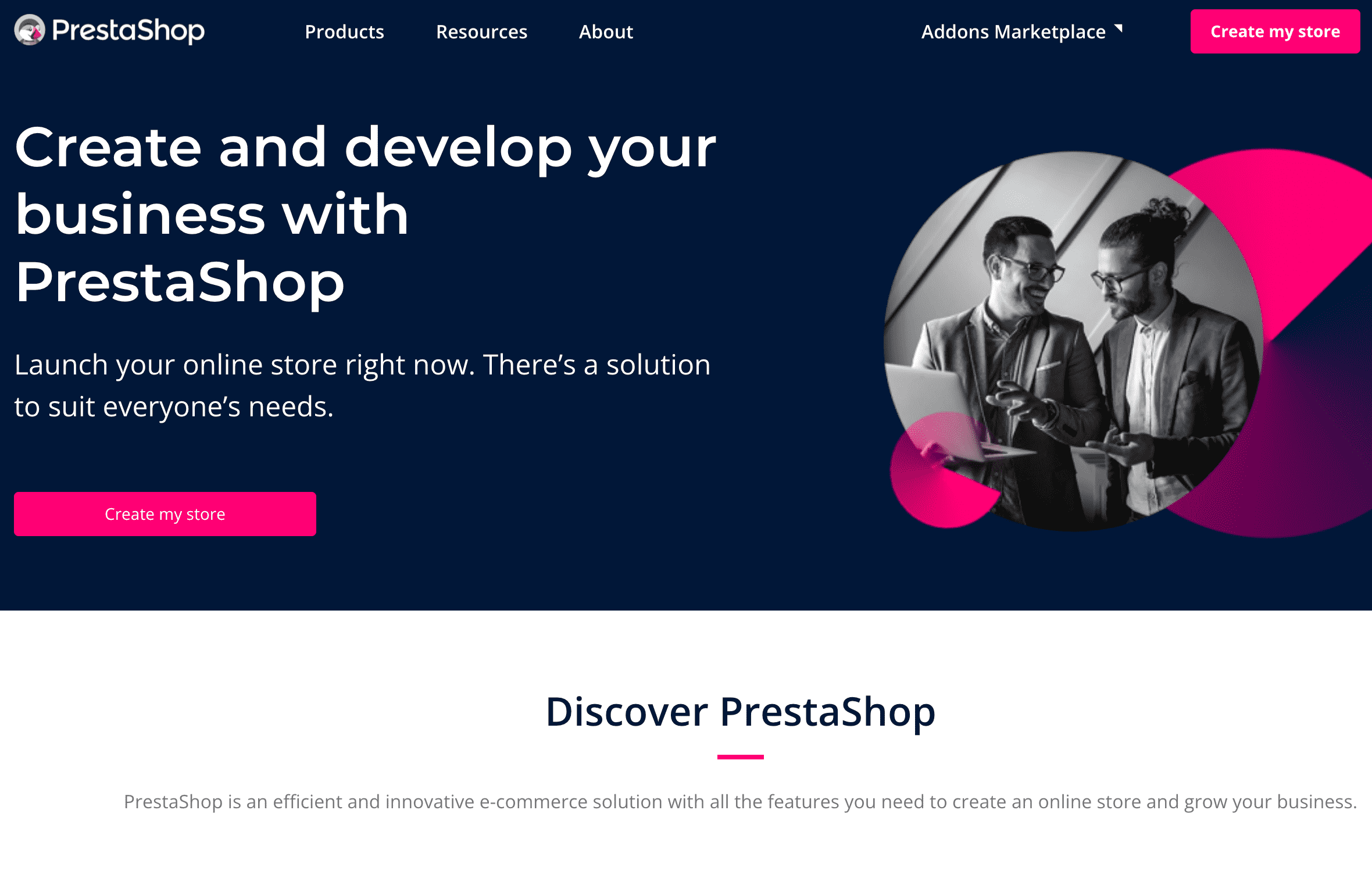 PrestaShop is a great option if you wish to host your store yourself. You simply signup and download the package to host your store.
Like WooCommerce you will need to be a bit more technical to setup your store, but it also provides a lot of flexibility and freedom to build your perfect store.
Quality
For building webpages, you will need to find a plugin/add-on to drag and drop blocks. Without a plugin/add-on you'll need to be more technical and be able to customise the pages yourself directly using a code editor.
But in terms of quality Prestashop is a really great option if you want to self-host, its supported by a massive community of engineers and shop-owners who continuously contribute fixes and improvements.
Popularity
It's very popular and used by over 300,000 stores. Also since its open-source it has a large following of daily users who contribute fixes and improvements.
Price
With PrestaShop the core package is free to use, but the add-ons/plugins can be paid, and normally the best supported ones would be.
The cost would be based on hosting fees along with the type of add-ons you wish to use with your store. So it depends.
7. Square Ecommerce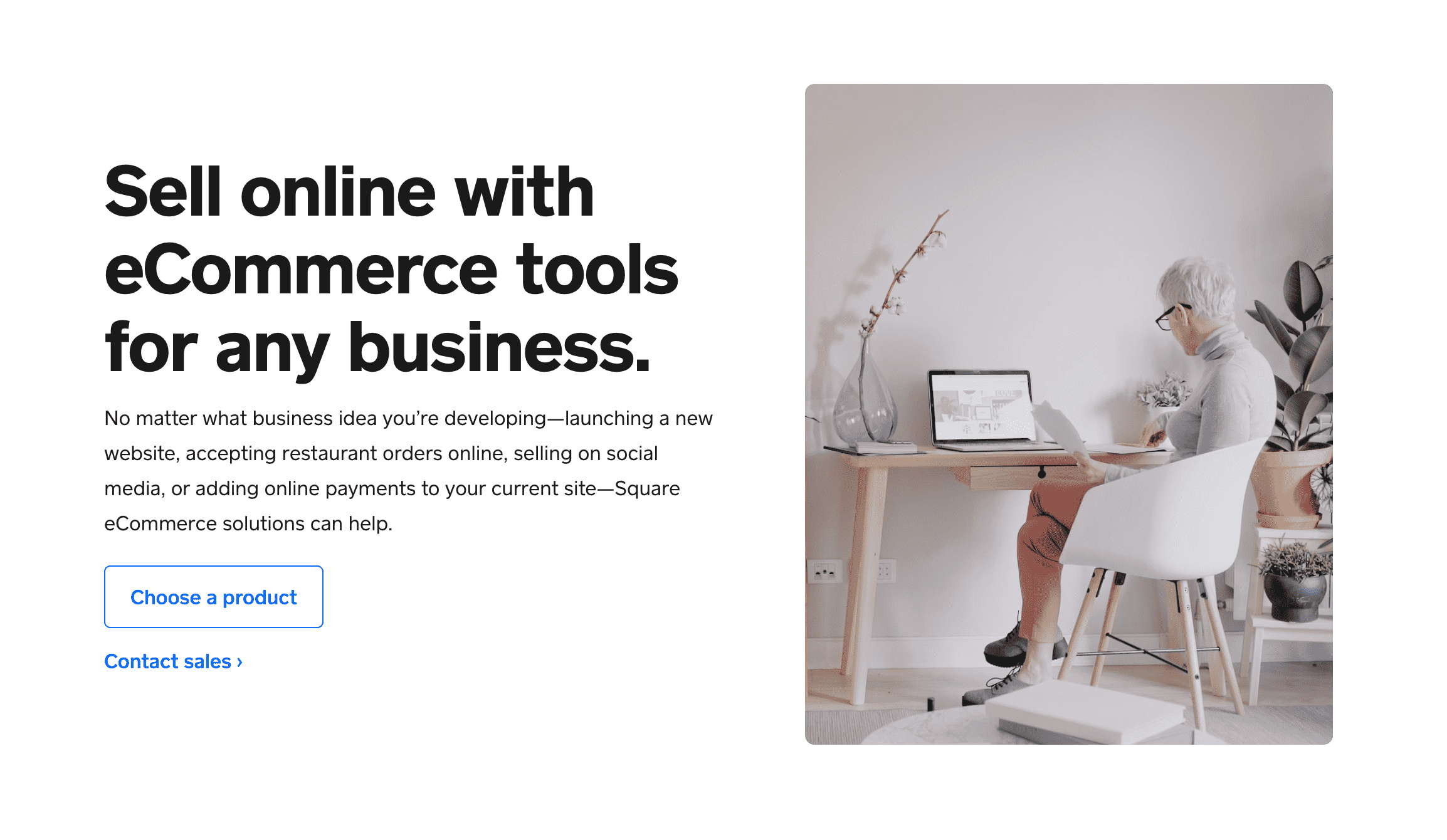 Formally known as Weebly, Square Ecommerce is a newer player in the space. Square is an amazing company really making a lot of progress in enabling companies to be more efficient in selling products.
With Square Ecommerce you can easily create a website to show off your products and manage orders. Although the platform is more web builder focused than managing an online store, its a great option for any size online store.
Quality
Square is an amazing company with a very strong focus on building an effective solution, Weebly is more of a website builder than a solution to manage your business, but I can imagine Square will invest more into the management of fulfilments, checkouts, fraud and other store related work in the future.
So this is a great option with the best of both worlds, a strong website builder that has been around for a long time and used by a lot of websites. Along with a strong company with a clear focus on making business more effective.
Popularity
Weebly has been around for a long time and finding a solution to any issue you have will just require a quick Google search.
Price
The E-commerce plans start at 10 USD per month and provide basic features to get started with your online store.
8. Big cartel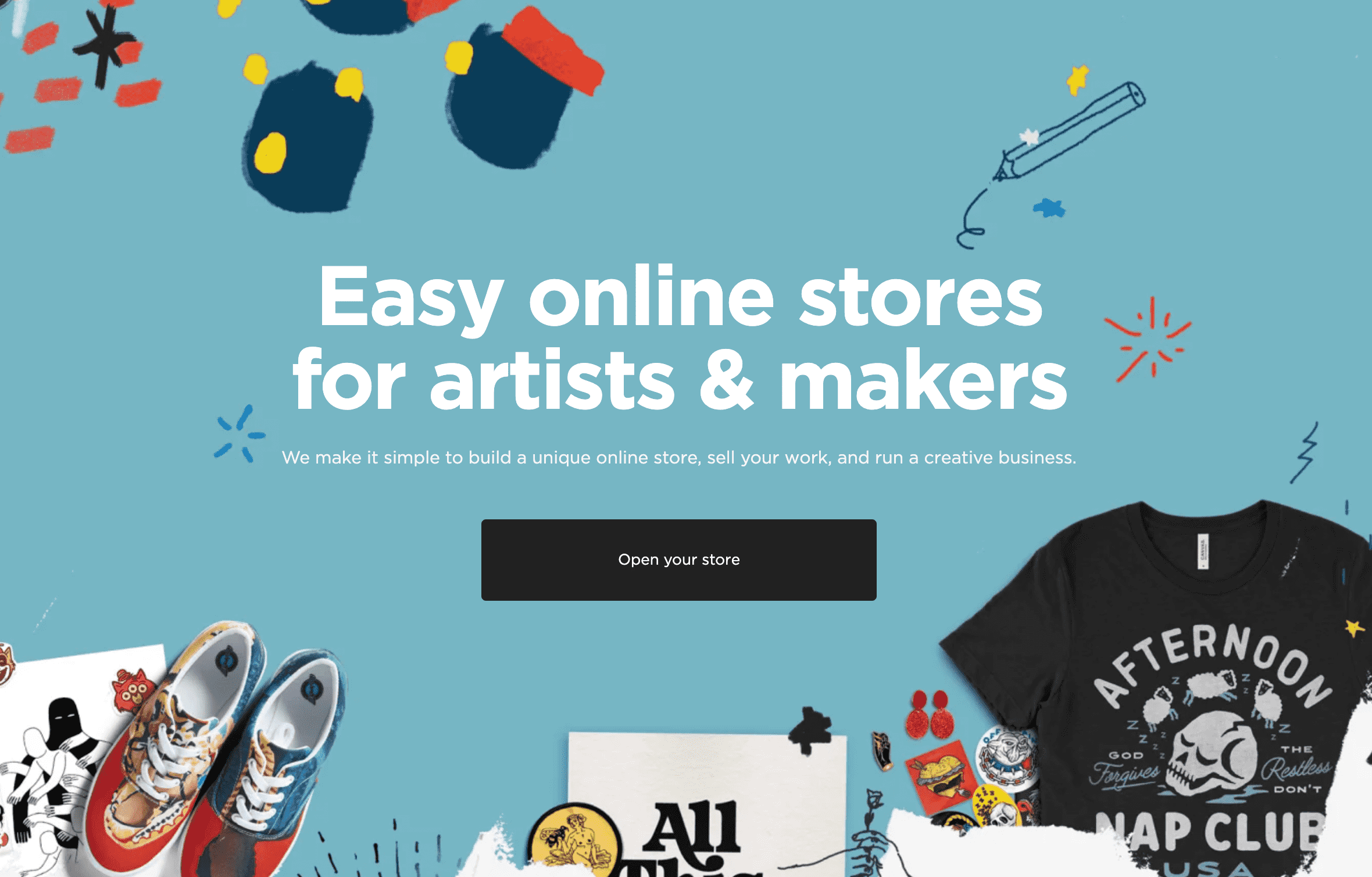 Big Cartel has been around for quite some time and have made a strong impact in the industry. They target more niche based companies who are selling to a particular group of customers. Its the ideal solution for artists and makers who want to sell online.
Quality
Their admin is quite minimalistic but provides enough functionality to do what you need. Instead of providing a drag and drop editor, they provide you with a WYSIWYG editor to add your own content.
The product is well built and has a great support team ready to assist you.
Popularity
Not as popular as the other more general solutions, Big Cartel focused on building the ideal solution for artists who want to sell their work online, if you get stuck or need help, their online support guides and documentation is well written and quite easy to find.
Price
Their pricing is quite simple, they provide a free account with up to 5 products. The next plan is 9.99 USD per month and supports up to 50 products.
All plans contain a good number of features that are perfect for running a small online store.
9. GoDaddy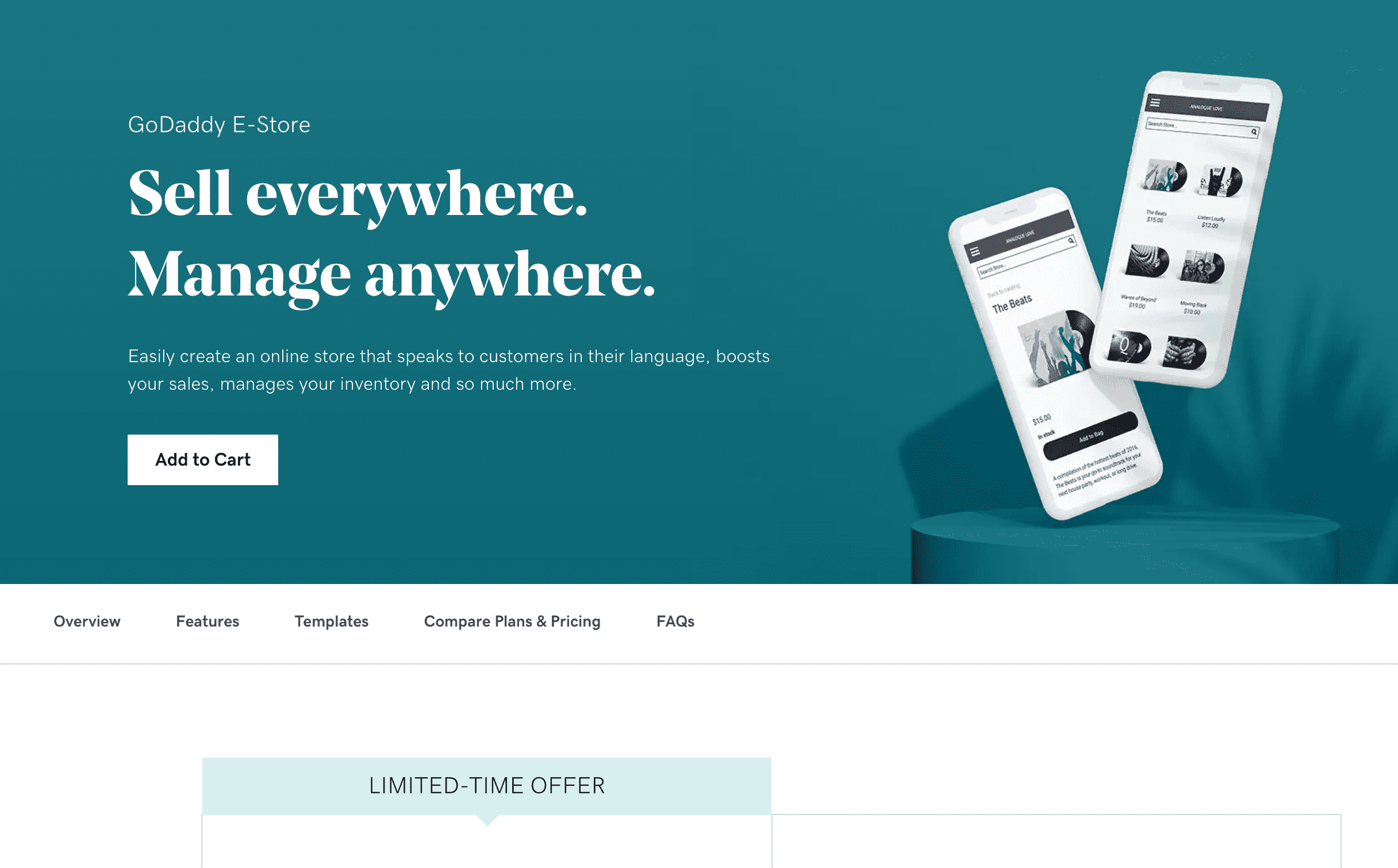 GoDaddy is more famous for being an amazing domain provider with great deals to buy a cheap domain name, but they also provide an easy to use website builder that is recommended if you are just starting out. The editor is well built, and it is priced very low to give you the motivation to try out a simple store.
Quality
It's well built and easy to work with, their editor is robust and quite intuitive, you can easily drag and drop blocks and build any webpage you like.
GoDaddy has done a great job providing a simple yet complete solution to build a website quickly and scale to quite a lot of traffic.
In terms of providing support for running an E-Commerce business its quite basic, the platform is more targeted at providing a website than providing a management system to run your business, but its quite easy to use in general.
Popularity
Not as popular as the others since GoDaddy is more famous for domains than being a website builder, they have a growing community of active users online.
Price
For E-commerce it starts at 9.99 USD per month and 19.99 USD per month the following year. The plan provides all the features you need to build an online store to allow anyone to checkout and purchase your products.
10. Volusion
Volusion is one of the upcoming online platforms, its a great option and provides a lot of promise to one day be one of the biggest players.
Their online webpage editor is very intuitive and provides a lot of flexibility to customise any block. They also provide a massive collection of themes to suit any business type.
On top of provide a strong store solution, they also have some marketing and site design services.
Quality
Its a well implemented solution and provides a lot of flexibility, they provide a complete solution of managing an online business and they provide you the flexibility to easily customise your online brand and sell anything you like.
Popularity
its up and coming, not as popular as some of the alternatives mentioned above, it has a lot of potential and they provide quite a good support team if you have any issues when get started.
Price
Starting at 29 USD per month, they provide quite a good list of features. Although the starting plan is more ideal for an individual, once you add access for employees, you need to upgrade to a more expensive plan.
But overall is quite a scalable solution for your business and provides a good list of features for each stage.
11. Shift4shop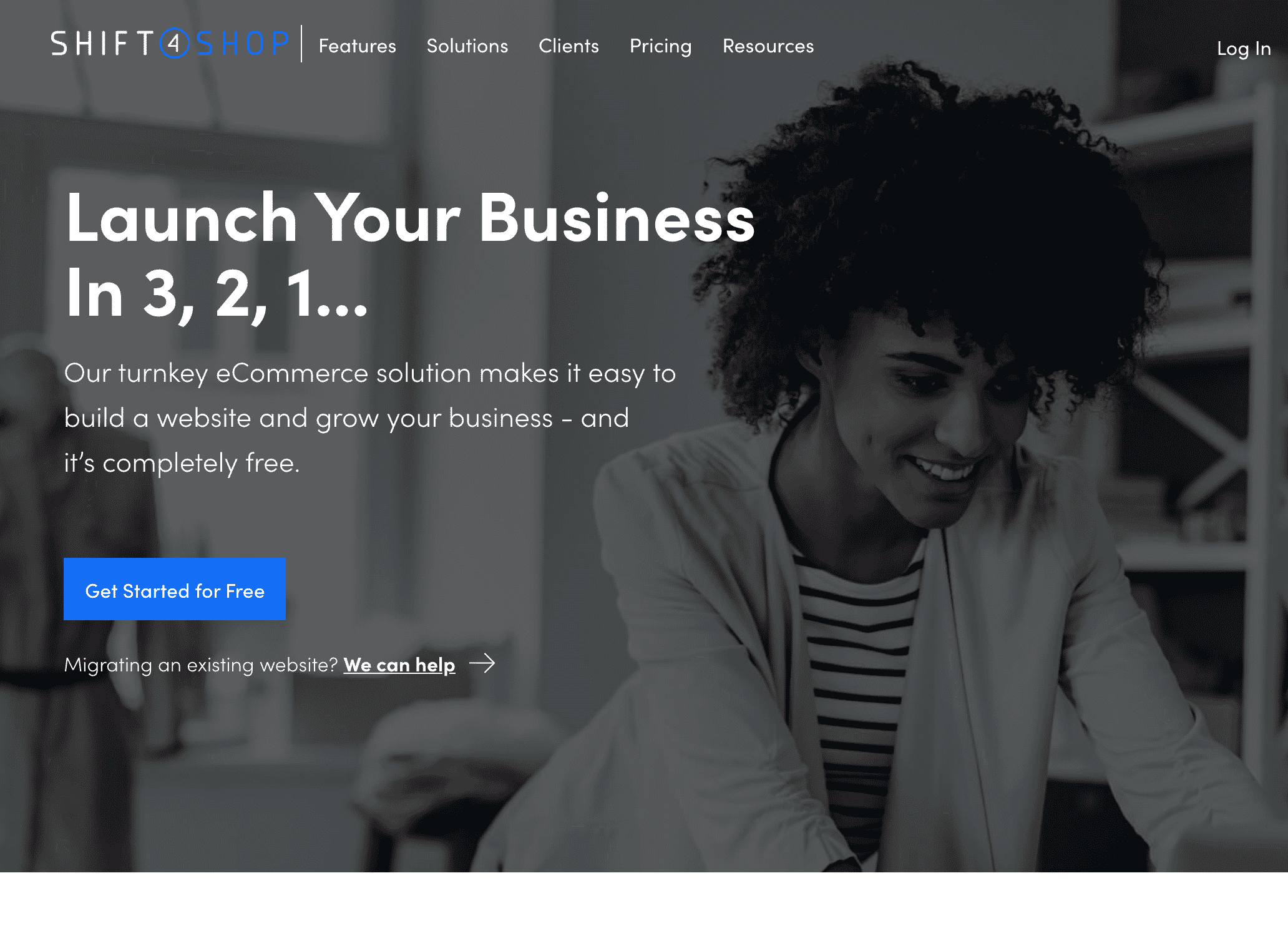 Shift4shop is one of the oldest options listed in this article, they provide a complete E-Commerce solution for any size store.
The solution has over 200 built-in features, including the ability to manage newsletters that can be sent to your customers, chat with your customers, run an affiliate program, offer a gift registry, a powerful product review system, and many other features.
Their page editor is quite good, you can drag and drop blocks into the page and easily modify them using a number of different options.
Quality
A great option that offers tons of features to run any type of store. They have been around for many years and their product is quite refined.
Popularity
Not as popular or known as the alternartives, it may be difficult to find online support, although there are some communities around who are willing to help.
Price
Starting at 29 USD per month they offer the full suite of features, the only limitation is the amount of staff members who will manage the store.
12. Zyro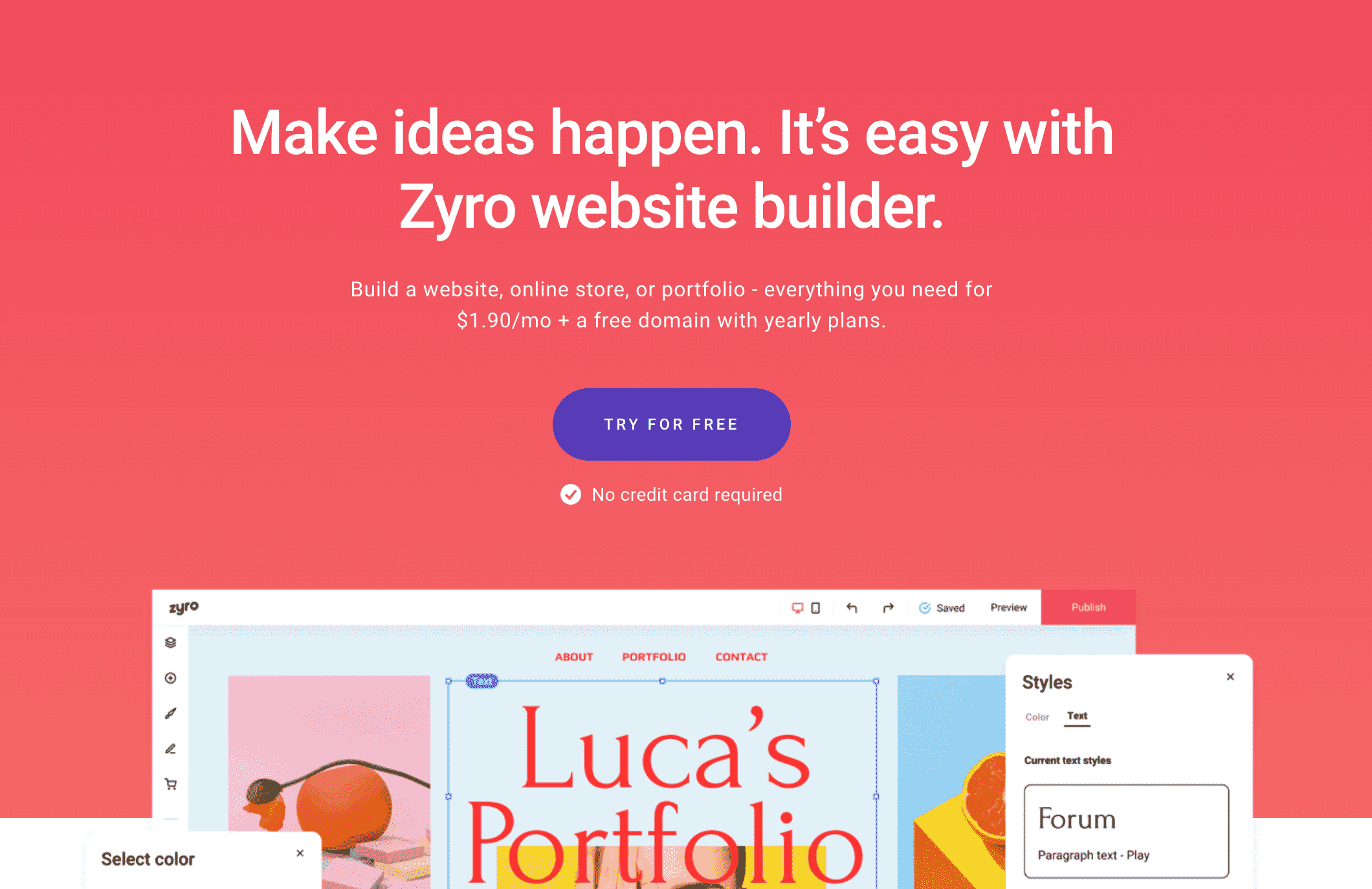 Zyro is a great option, they are first a website builder and second a system to manage your store. But overall their website builder is very powerful and the management tools they provide are quite complete.
Quality
Their solution provides both a beautiful design and an intuitive editor to build your dream website. They provide a great selector of features and themes to help you build your ideal website.
Popularity
They are up and coming and becoming quickly a popular solution, they provide online support along with tons of guides to help you get started and to address any issues you may run into.
Price
Starting at 8.90 USD per month, they provide everything you need to run a small store. And in higher up plans they provide more powerful features for more special cases to increase engagement and help you run a successful business.