Building a blog today has never been easier, tons of solutions exist that really can help you focus on writing great content and building a community around that content. We live in a world where content is shared daily and easily exposed to huge amounts of people thanks to websites like Twitter and Facebook.
If you can write one great post which resonates well with many people, you may go viral and drive tons of people to your blog who will want to read and engage with more of your articles and start following you. When this happens you can focus on scale and monetization if this is your mindset, and then you could aim to even work full time on the blog you have created.
So in this article, I will show you some ways you can get started along with some tips on how to grow your blog.
The most important tip I can give you, which is true for any sort of success in this world, be consistent and do not give up. If you get into the habit of producing great content on a recurrent schedule, you are guaranteed to get noticed and grow your blog to success.
So besides the potential of growing your blog, writing is a great way to relax and take a break from your routine in life. It's quite enjoyable sharing knowledge and focusing on writing a great post, it also increases your ability to express your language in many different ways.
So now that I have explained some of the benefits and the value of running and building a blog, now I'll explain some of the options that exist.
Technical ability
So technical ability with web technologies is a powerful skill to have, although it is not required and is something you can learn after a while from reading and watching a few good tutorials.
Having this skill will help you to optimize costs and understand how to maintain and extend a web server and content management system when the time comes, of course, this depends on the path you decide to take on how you want to build your blog.
In today's world, you may not even need a server if you understand how to write markdown and if you prefer to write your articles using a plain text editor. If you take this path you could provide your markdown files of content to a website generator such as Gridsome, Gatsby or even Jekyll. These generators will take your markdown files, apply them to a template and output an entire blog into a folder. You can then upload this folder to a static website provider such as Netlify.com and have visitors access your articles from a domain pointing at Netlify.
This is somewhat related to something called the JAM stack, which I'll explain later in this article.
Top paid options
A paid solution is a great way to get a premium experience with a lot of potentials to expand if you wish to do so in the future. By expand I mean to extend your blog to also sell products or even provide a member-only forum.
Some options are:
1. Squarespace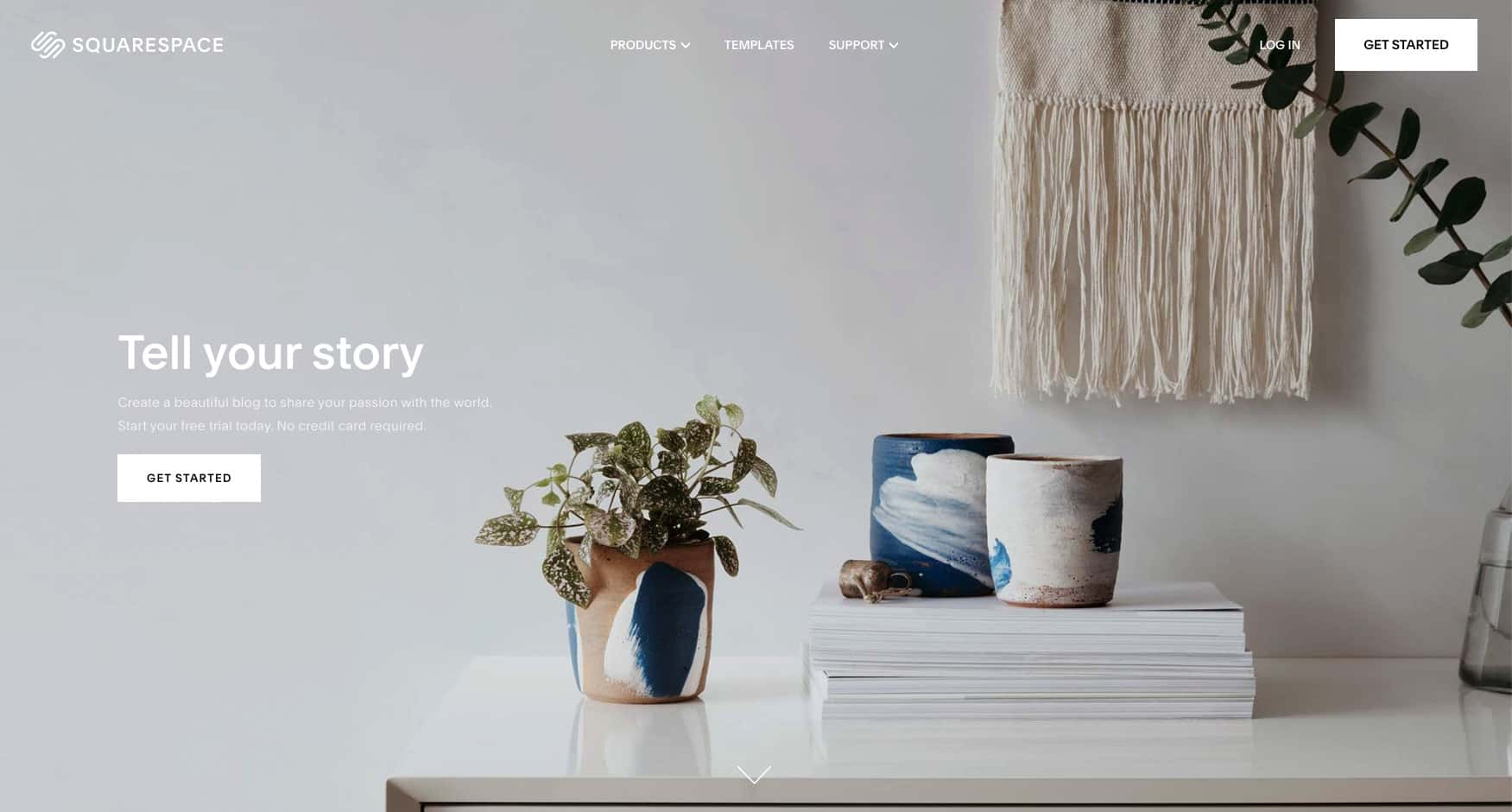 Squarespace is a popular website builder that has been around for several years, they provide a powerful editor with great social media integration. Squarespace provides a collection of some of the most beautiful website templates online. They are worth trying out the 14-day free trial and see if the blog editor works well for you.
They provide built-in comments and an easy way to share to Facebook and Twitter, your content is also formatted to look great on social media.
They also provide a free mobile application for iOS and Android, in the application you can easily write new blog posts and manage content.
For more on blogging with Squarespace, take a look at this article https://support.squarespace.com/hc/en-us/articles/206543727-Blogging-with-Squarespace
2. Wordpress.com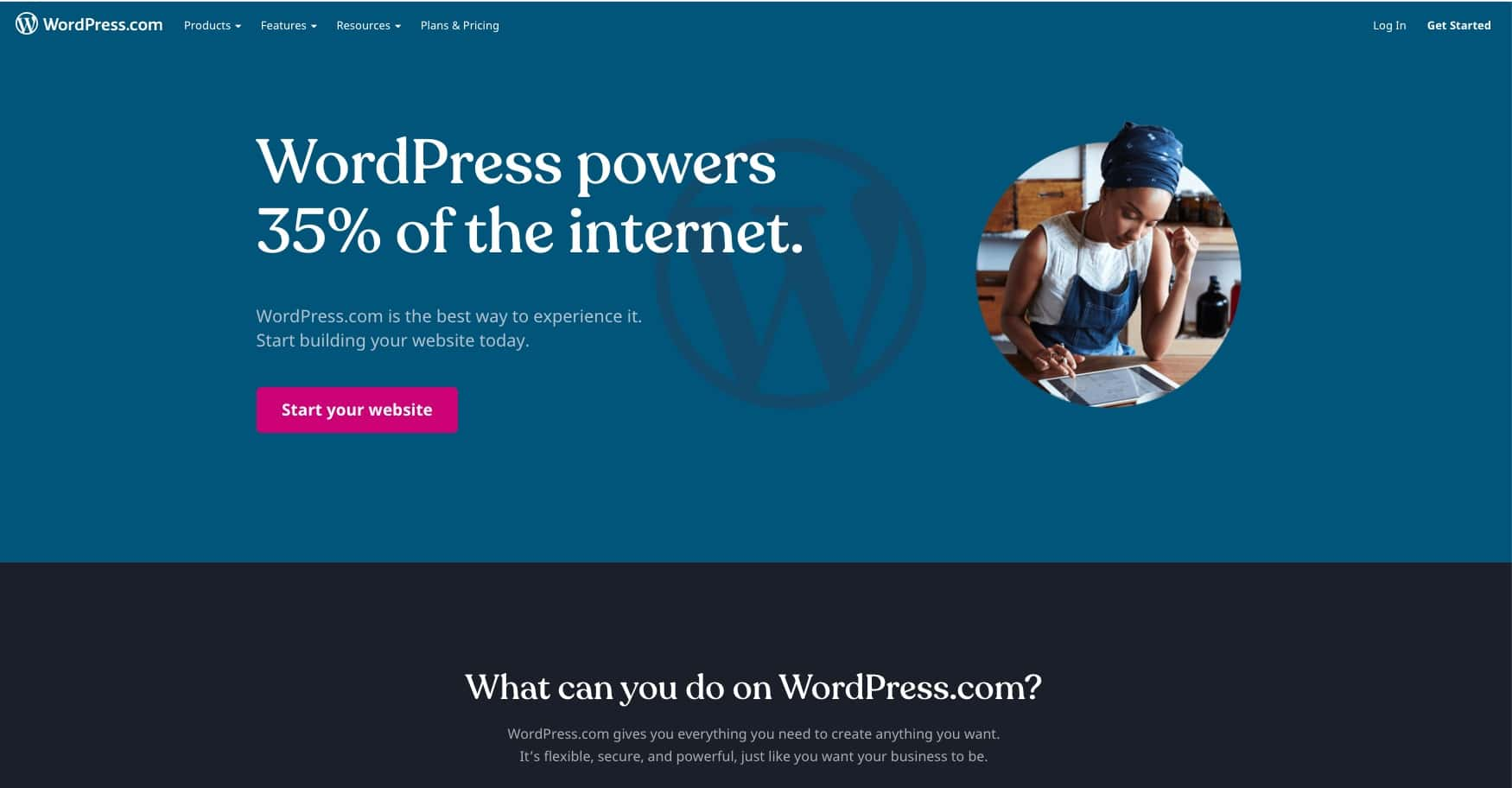 Wordpress is one of the most popular blog platforms on the web, they have been focused on providing a great and reliable blog platform for a good few years.
Wordpress provides an easy to use and content-focused editor that can store draft versions and allows for post versioning. They also have a massive collection of different themes and advanced design customisation.
Their more premium features start to extend the website into much more than just a blog by providing e-commerce features.
For more on WordPress, check out https://wordpress.com/features/
3. Ghost.org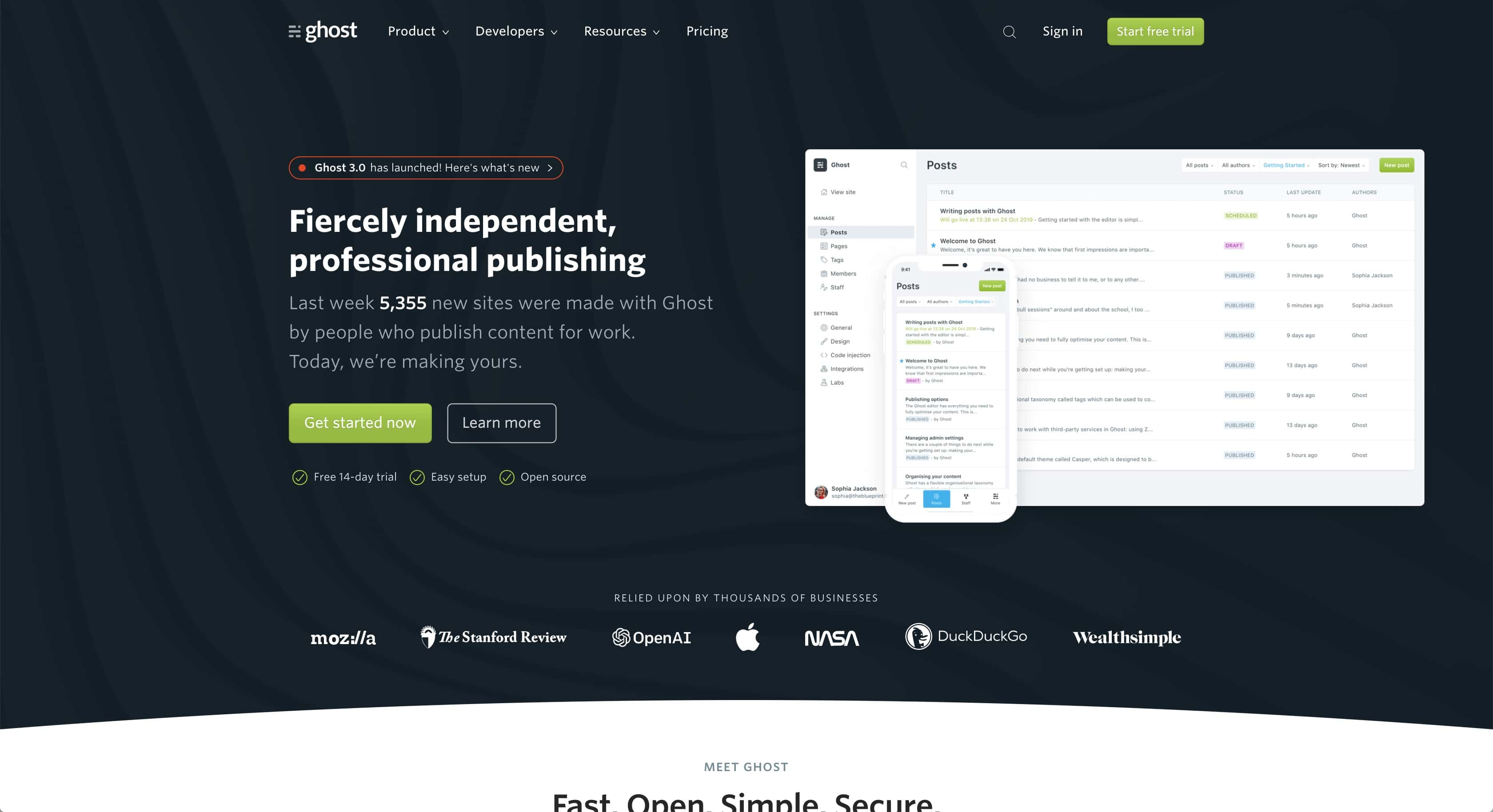 Ghost is a modern blog platform that provides a lot of powerful features along with a simple and easy to use editor. Ghost provides a lot of value, especially if you plan to provide paid exclusive content, their platform has support for building out membership areas. On top of providing you with a paid membership area, they do not take any commission from your sales.
They also provide the ability to build a community around your content by providing a powerful commenting system your readers can interact with, along with giving you the ability to quickly and very easily reply to any comments or questions. Like many of the other options, they have a wide selection of themes that you can also customise from the admin area to make it your own. And you can even manage the appearance of your content in popular search engines and social media websites.
They also offer a free alternative that will be mentioned below.
4. Wix.com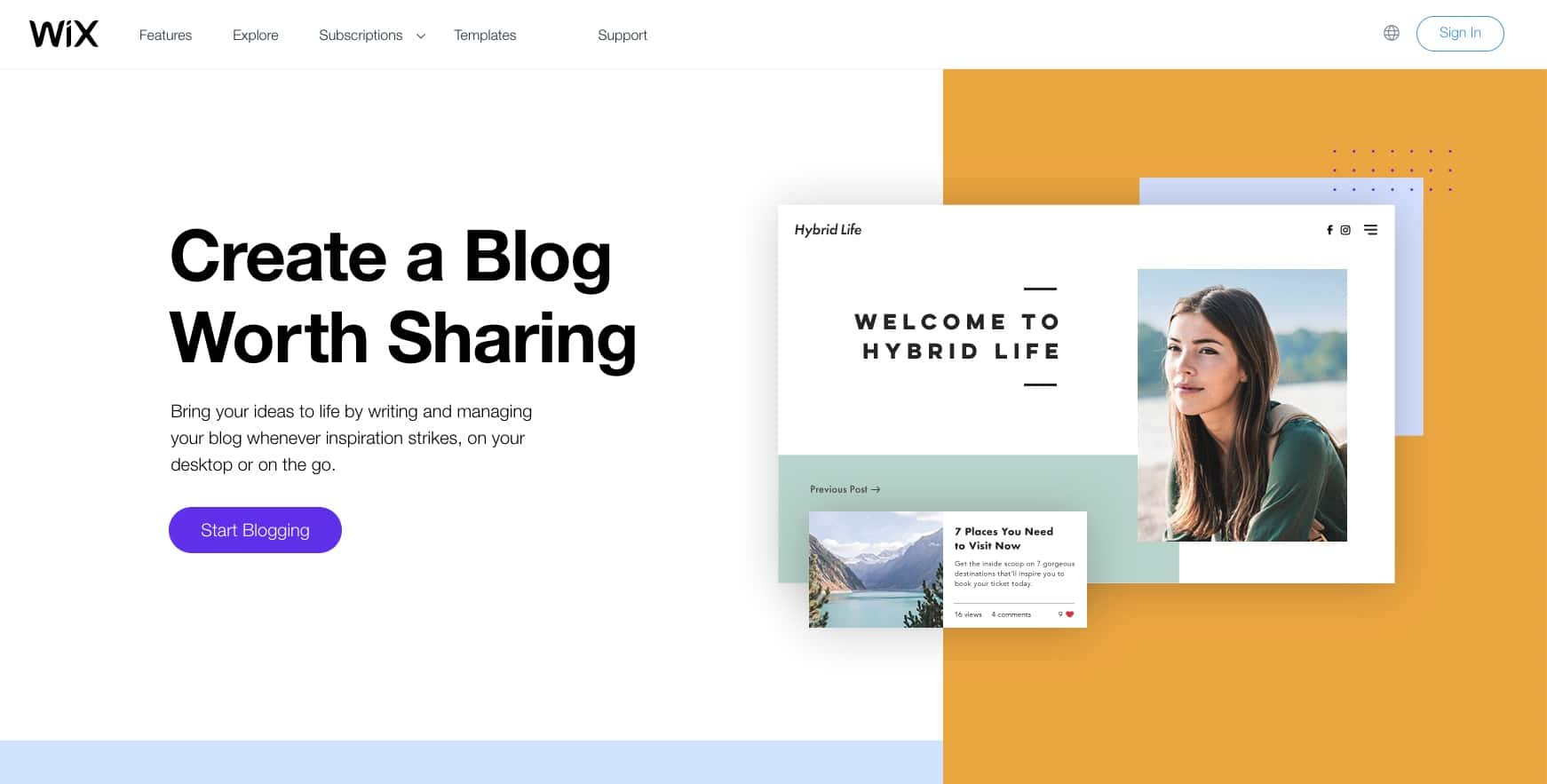 Another website builder, Wix.com provides a complete blog experience with the potential to expand to other capabilities. Wix is a very popular website builder that has been around also for a few years. Over the past few years, they've been specialising more into providing advanced features to provide more powerful websites.
Like the two options above, Wix.com also provides tons of website templates, the one thing that makes them truly special though is the flexibility of their page editor.
They also provide a powerful comment ability and a way to easily share you're latest articles to social media.
You can find out more about Wix and how to blog with Wix here https://support.wix.com/en/article/designing-your-new-wix-blog
5. TypePad.com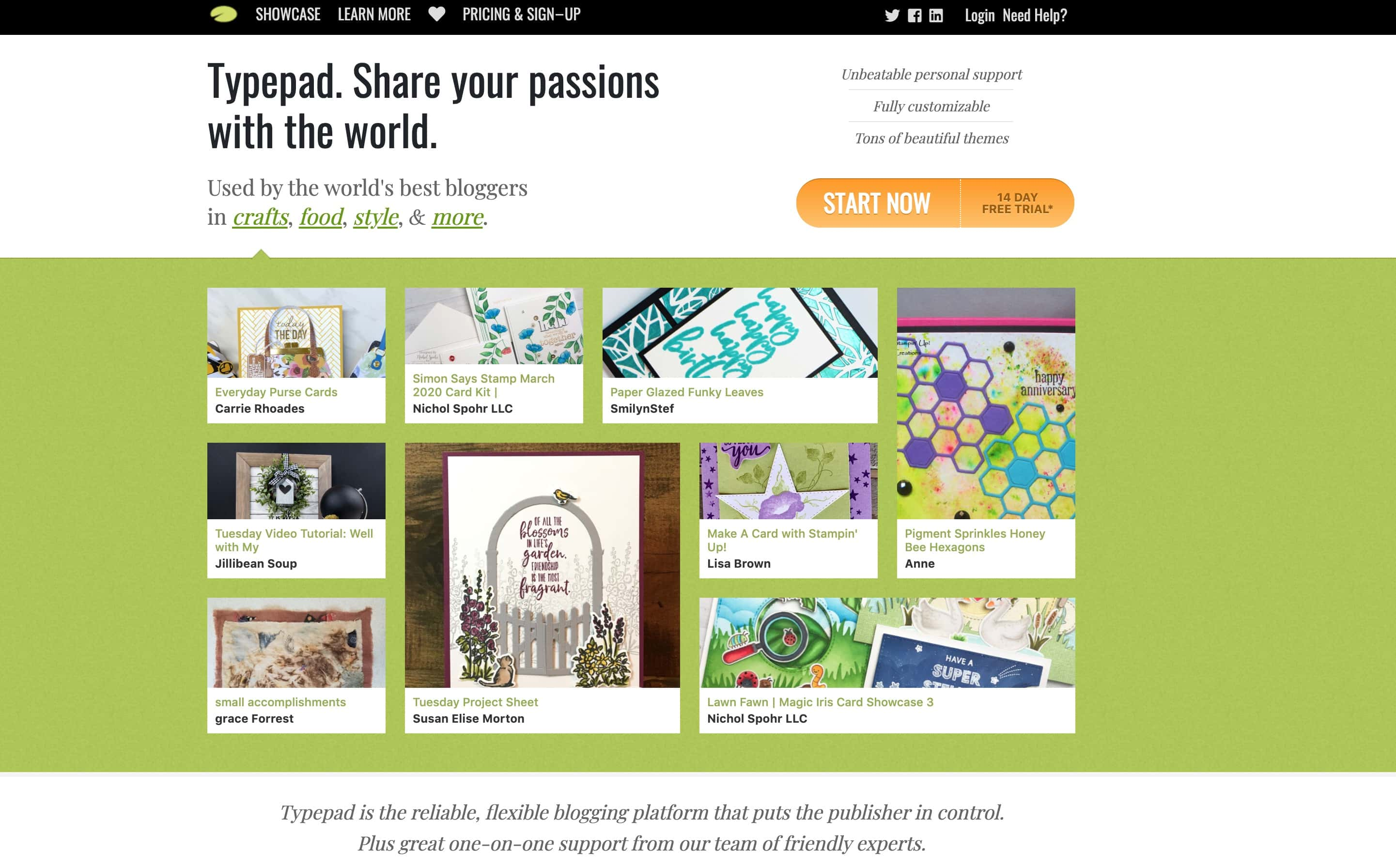 Typepad has been around for a long time, it exclusively only provides a blog along with a full blog inclusive blog experience. Typepad is only paid and provides a collection of essential and complete features, from analytics to a powerful blog editor you can access on your computer or your desktop.
As they say on their homepage, "Typepad is the reliable, flexible blogging platform that puts the publisher in control. Plus great one-on-one support from our team of friendly experts."
6. Svbtle.com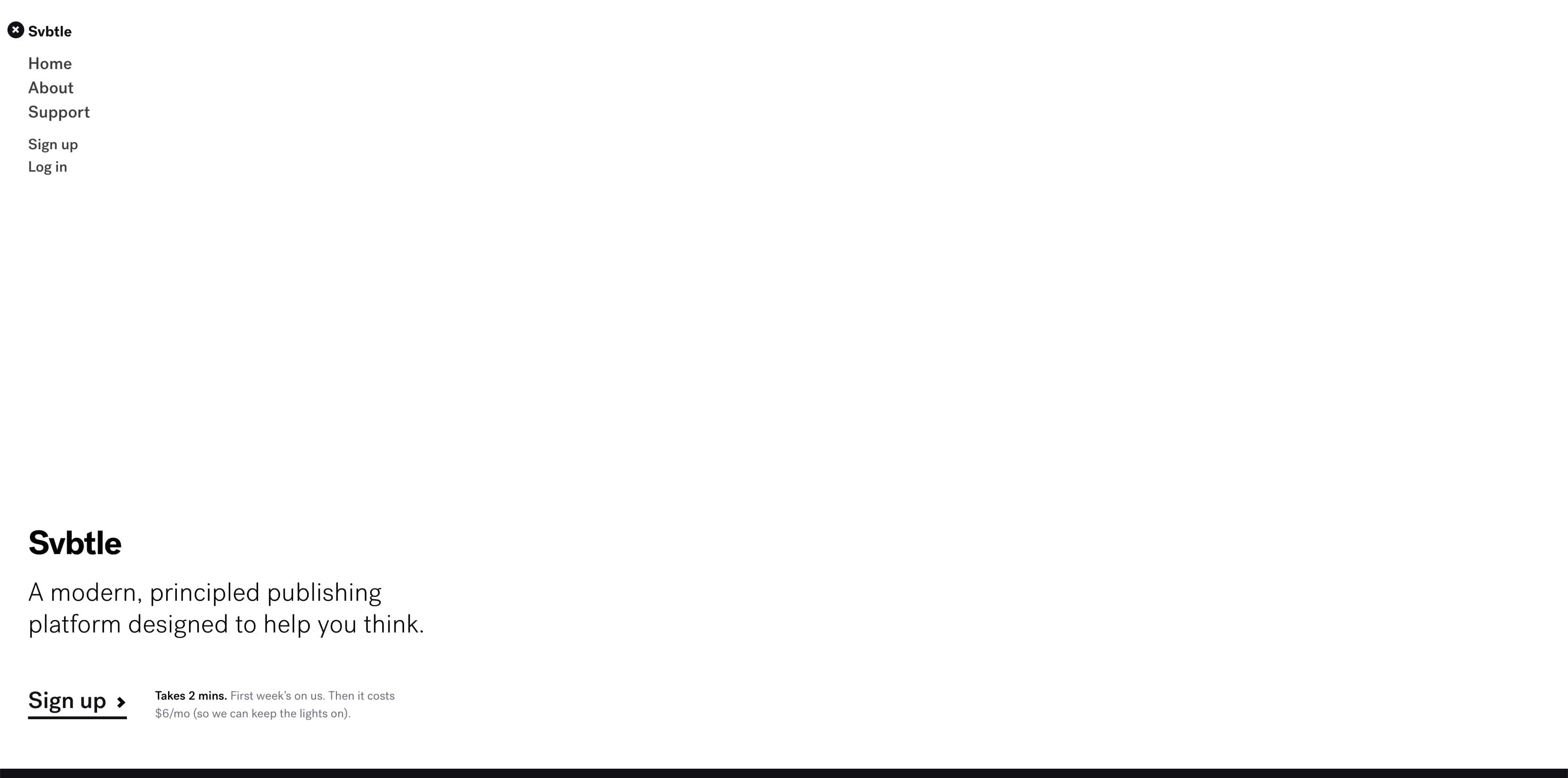 Svbtle is as they say on their website, "A modern, principled publishing platform designed to help you think." Svbtle is a very minimal yet powerful blog platform, they provide all you need to do your best work while providing an elegant experience to help you create great content and on writing that content.
Another nice feature of Svbtle is you will write your blog posts using a format called Markdown. If you're not familiar with markdown, its a collection of text symbols that allow you to easily add headings, images and links to your content without the need to use an editor or write any HTML.
And another nice thing is the Svbtle membership comes with the Forever Promise, it's a commitment that the Svbtle service and published content will remain available on the web forever.
7. Posthaven.com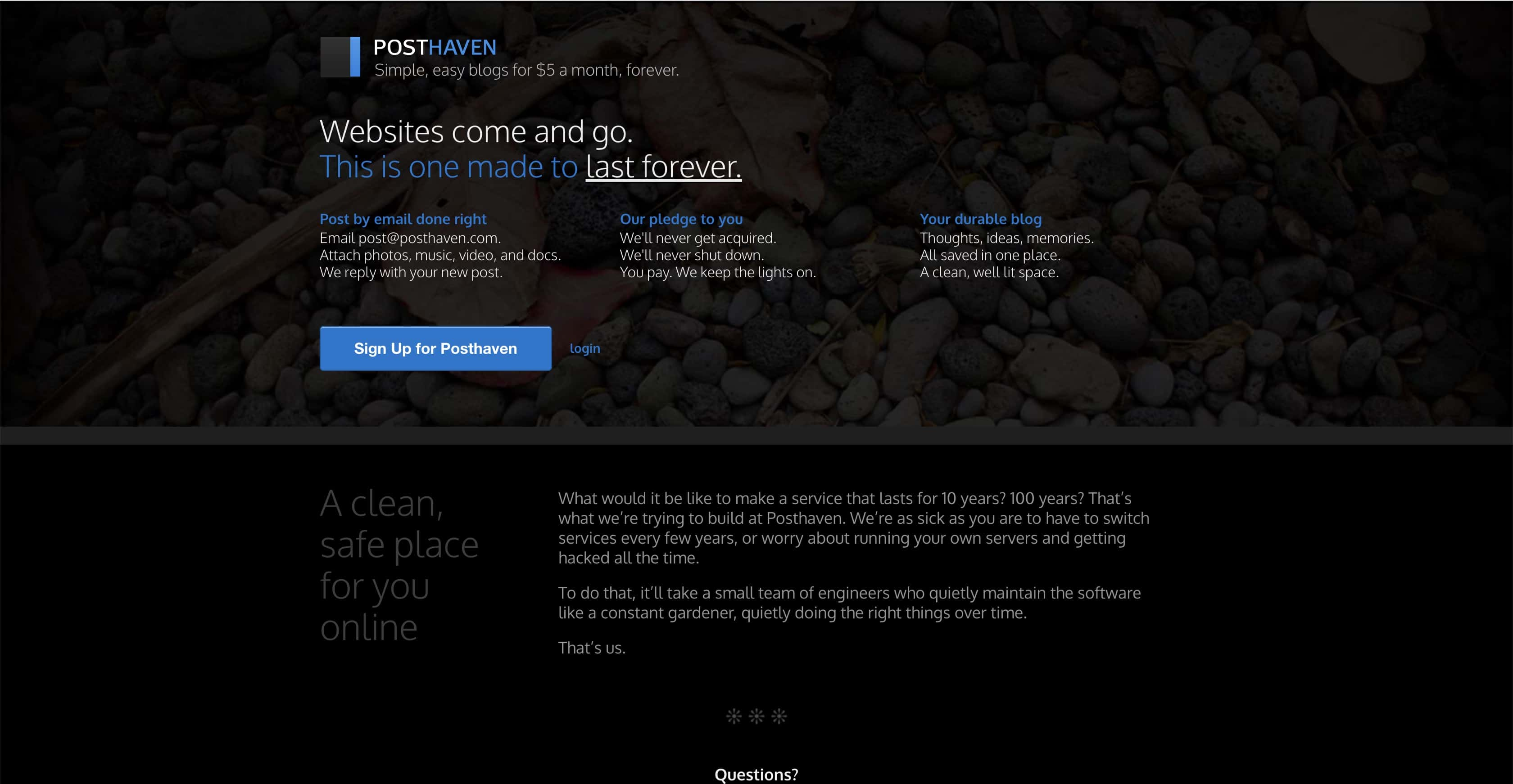 Posthaven is a blog platform to last forever, along with the simplicity of posting content super simple and easy.
Their editor is not as modern as some of the other options in today's world, but the reliability and stability is guaranteed.
Top free options
1. Wordpress.org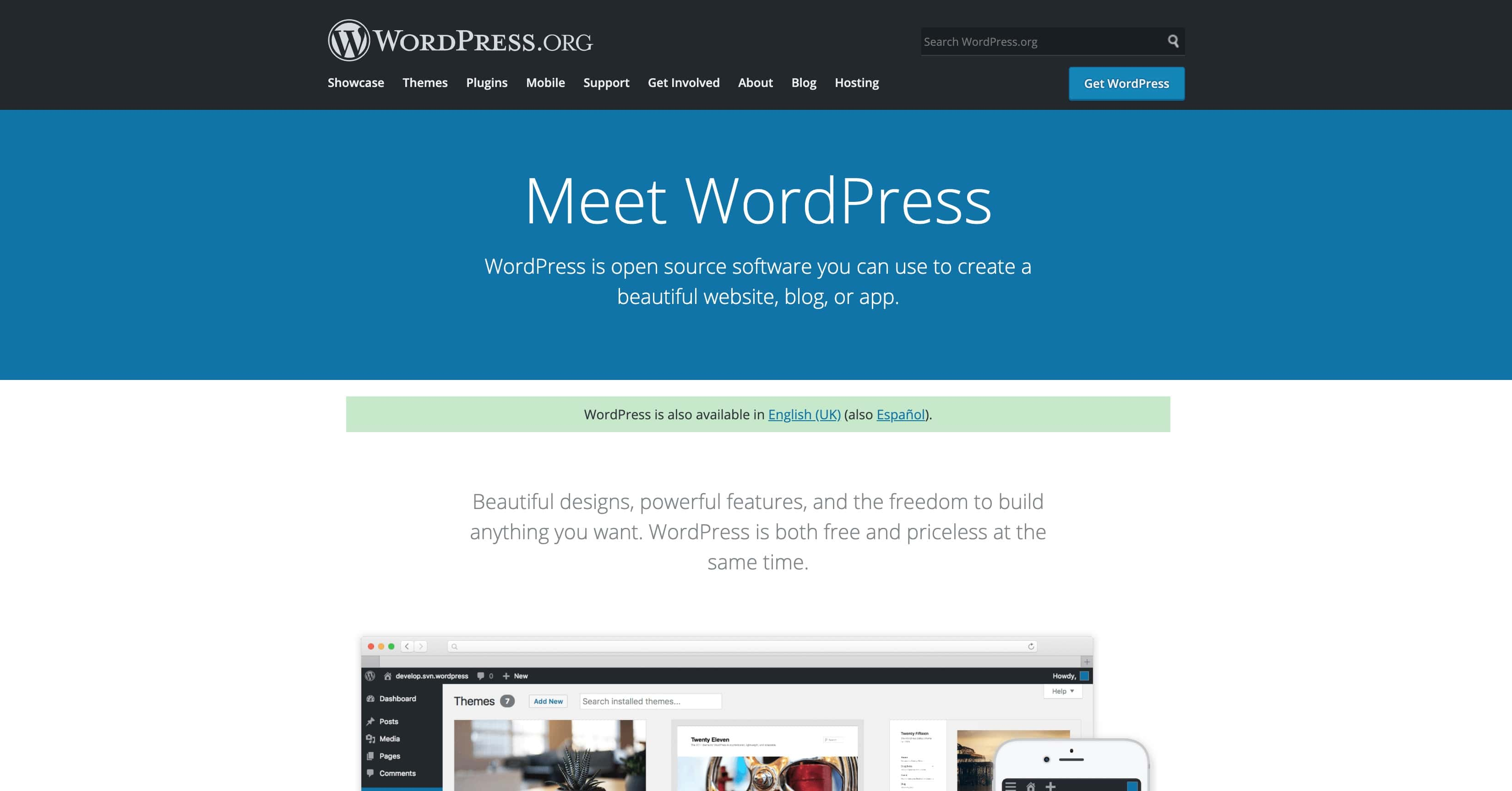 Wordpress has to be the top option in this list, it is one of the most popular content management systems used on the web today. Along with Wordpress providing a paid solution as I mentioned above, they also have a free open source alternative. This version of Wordpress has been extended to work as all sorts of different websites, this is great if you ever decide to expand your blog into selling products online or providing paid membership areas.
Wordpress.org needs to be run on your server or you can find several host providers who will host it for you. The main risk here is because this is such a popular option, ensure you always have the latest version and you have some sort of malware detection installed. But the potential of Wordpress is endless along with a powerful blog editor that you can customise and alter over time using different plugins.
Another point I should mention is the amount of Wordpress theme developers who full time build and maintain a vibrant economy of selling themes to Wordpress website owners. It is now very easy to find a beautiful and powerful website for only 50 US dollars.
2. Ghost.org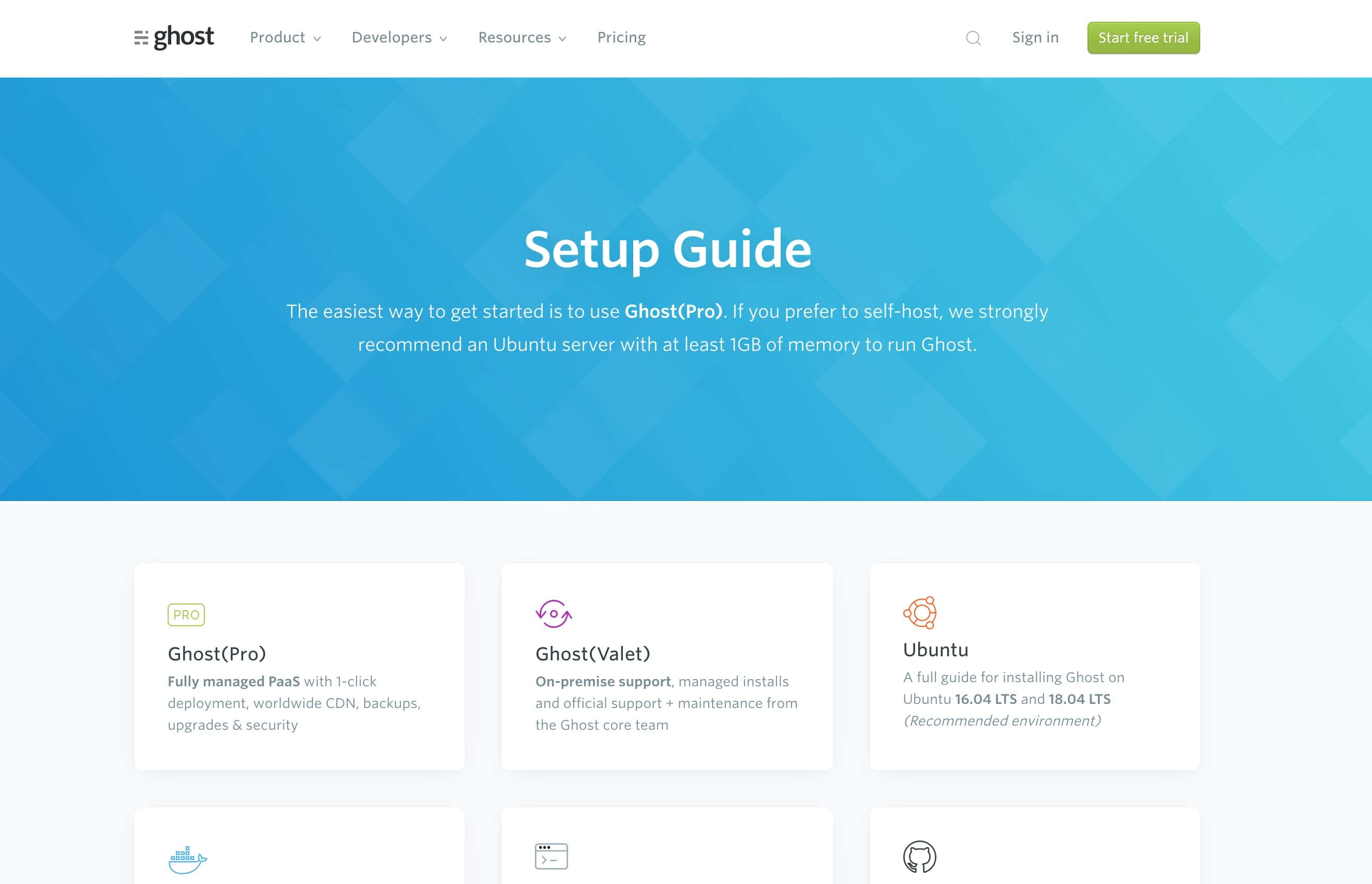 As I mentioned above, Ghost also has a paid option, but they provide an open-source option also. With Ghost, you will need to also host the server yourself. With the open-source solution, you have access to all the same features as paid along with more control over where your content is being stored.
Like Wordpress, you can find several hosting providers who provide support for Ghost at a low cost. Ghost is still growing quite fast and more and more developers are contributing to building themes for Ghost, finding a good theme is not difficult.
3. JAM stack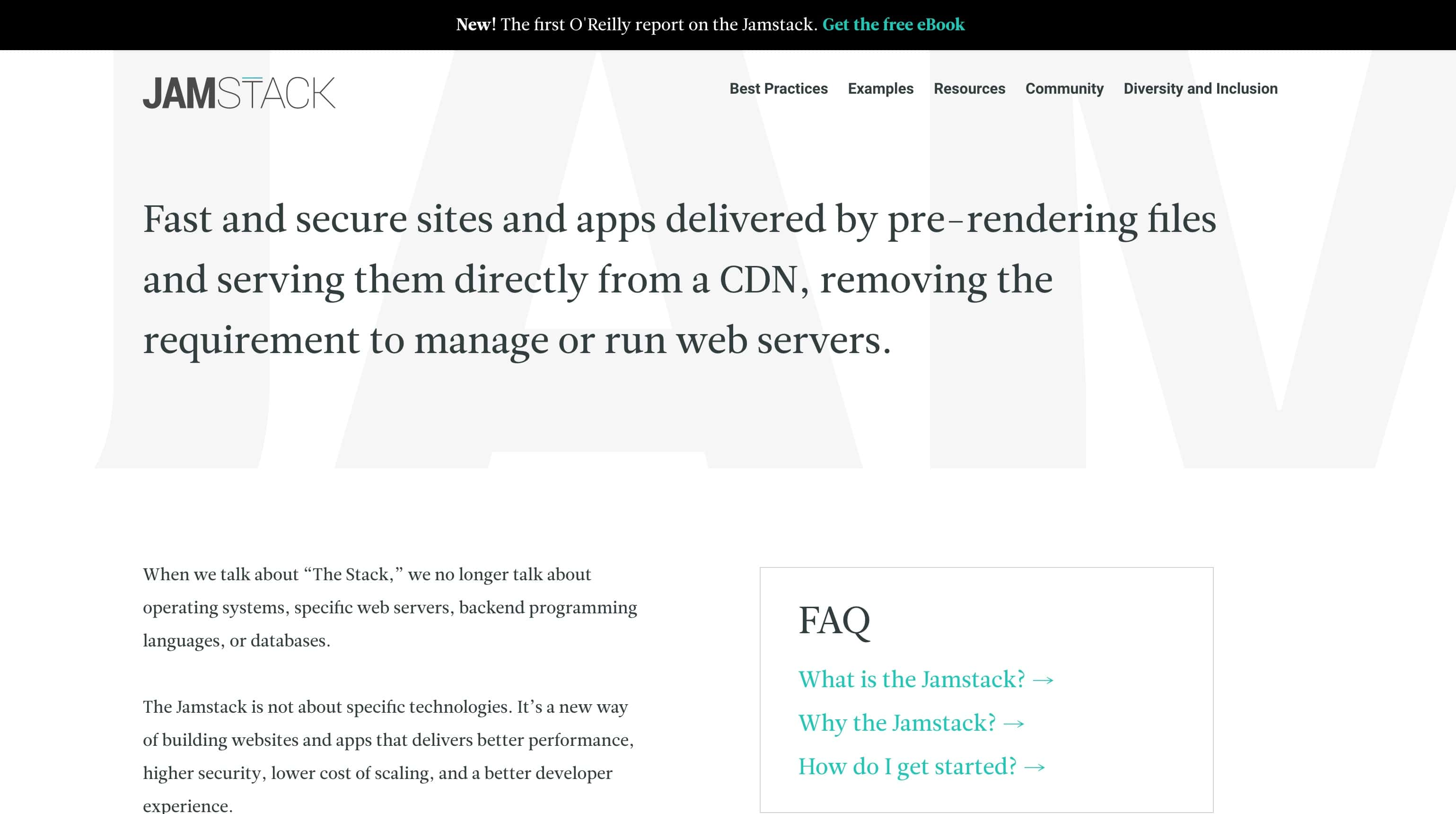 A must mention on this list is the JAM stack, this is a new concept that has emerged a few years ago. The basic idea is to host your blog as a static website using a static hosting provider like Netlify.com. Unfortunately, you don't get an admin or a content editor, instead, you write your content using different markdown files and then you use a blog generator such as Jekyll, Gatsy.js or Gridsomejs to generate your blog.
This is a great option for developers who want to just put content online without the worry of their admin getting hacked. Or without the worry of having to manage the uptime of a server if some content drives a lot of traffic.
You can read more about Jam Stack in this article. In the article we explain the main differences of what Jam stack is compared to WordPress, and some of the benefits with moving to it.
4. Medium.com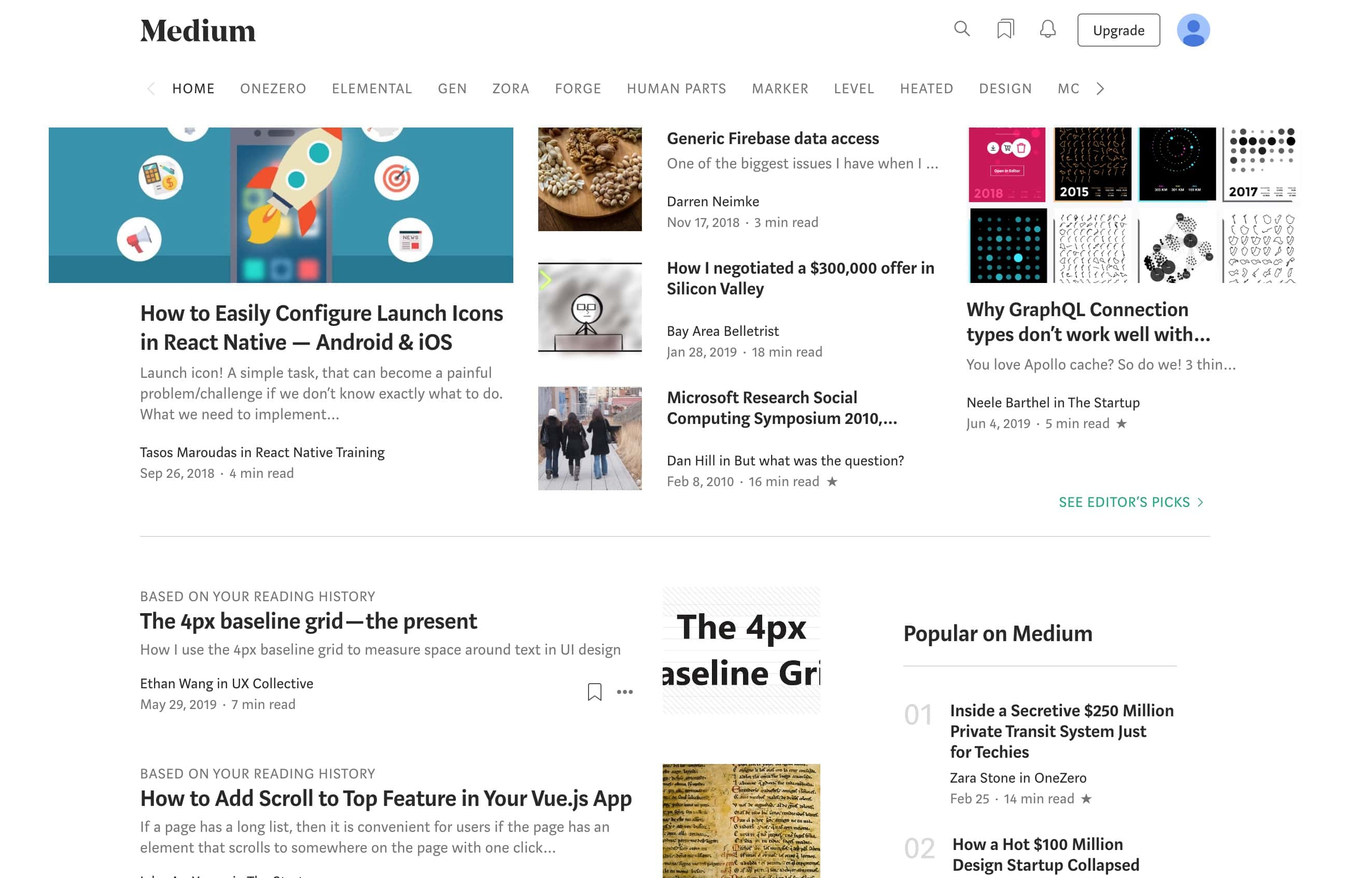 Medium.com is a new player in the blog eco-system, but it has started to dominate online content. Medium.com is a platform that is free to publish too and is as easy to use as logging in with your Twitter.com account or with an email and password.
What is great about Medium.com is you can only focus on your content without ever worrying about servers or security. They also expose great content to a huge community of engaged readers who can subscribe to your publication. And the entire community receive daily and weekly digest emails on emerging content, this provides a great opportunity for your content to quickly grow and reach like-minded readers.
Medium is a great way to just write and focus on gaining a following, the only negative is the content is hosted on Medium.com servers but everything has a price.
5. Blogger.com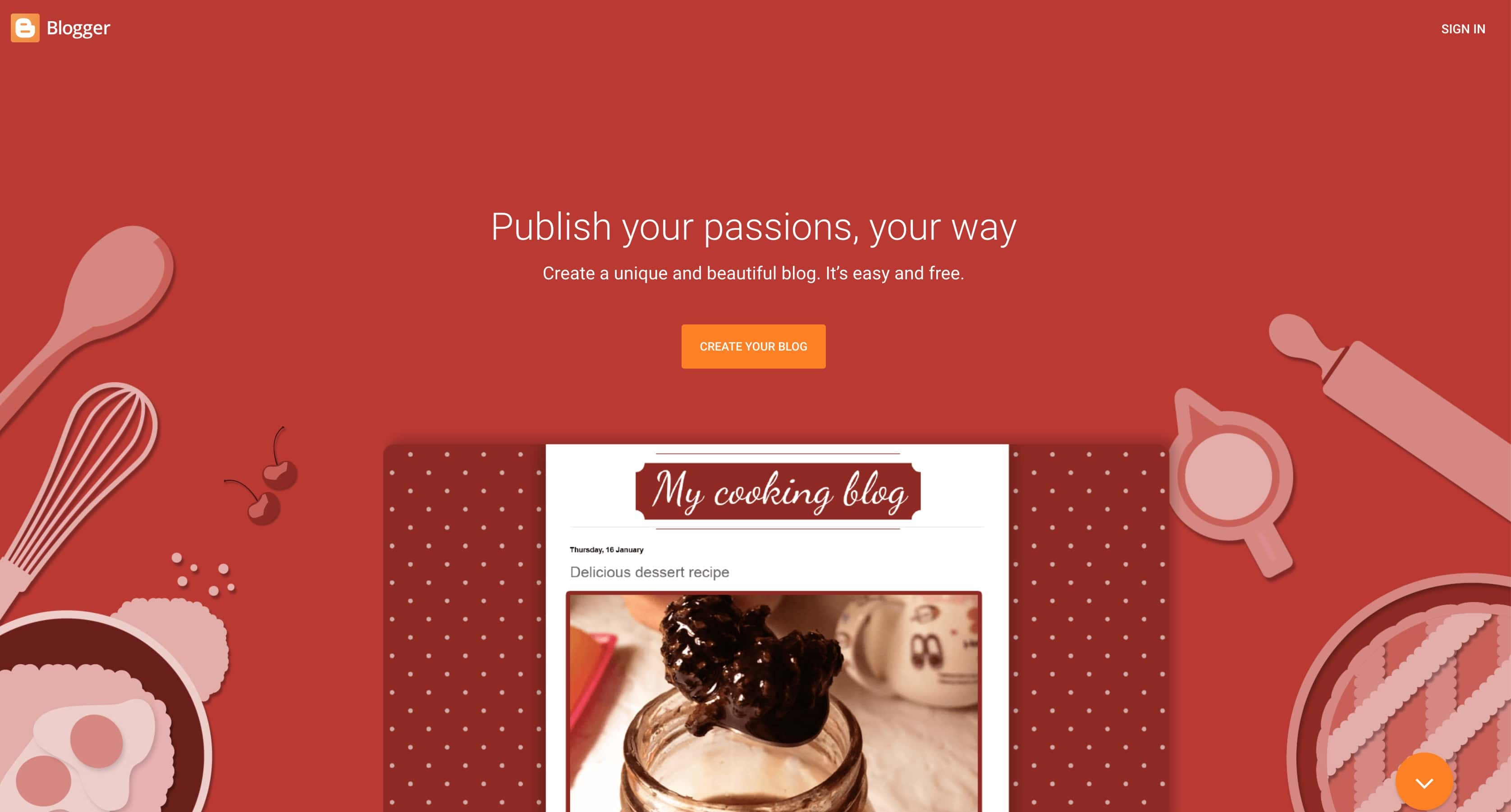 A long time existing blog platform and one owned by Google.com, Blogger.com is a great option for building an online blog that is completely hosted by Google, while providing a simple way to get your content online.
Blogger is a simple solution that allows you to easily focus on your content, their themes are limited and their editor is a bit basic, but it can be the perfect option for someone who just wants to build a reliable and stable blog for free without worrying about servers or security.
The blog editor provides all the expected basics like scheduling blog posts, customising the url path of the blog post, enabling optional comments and adding labels to better organise content.
6. Tumblr.com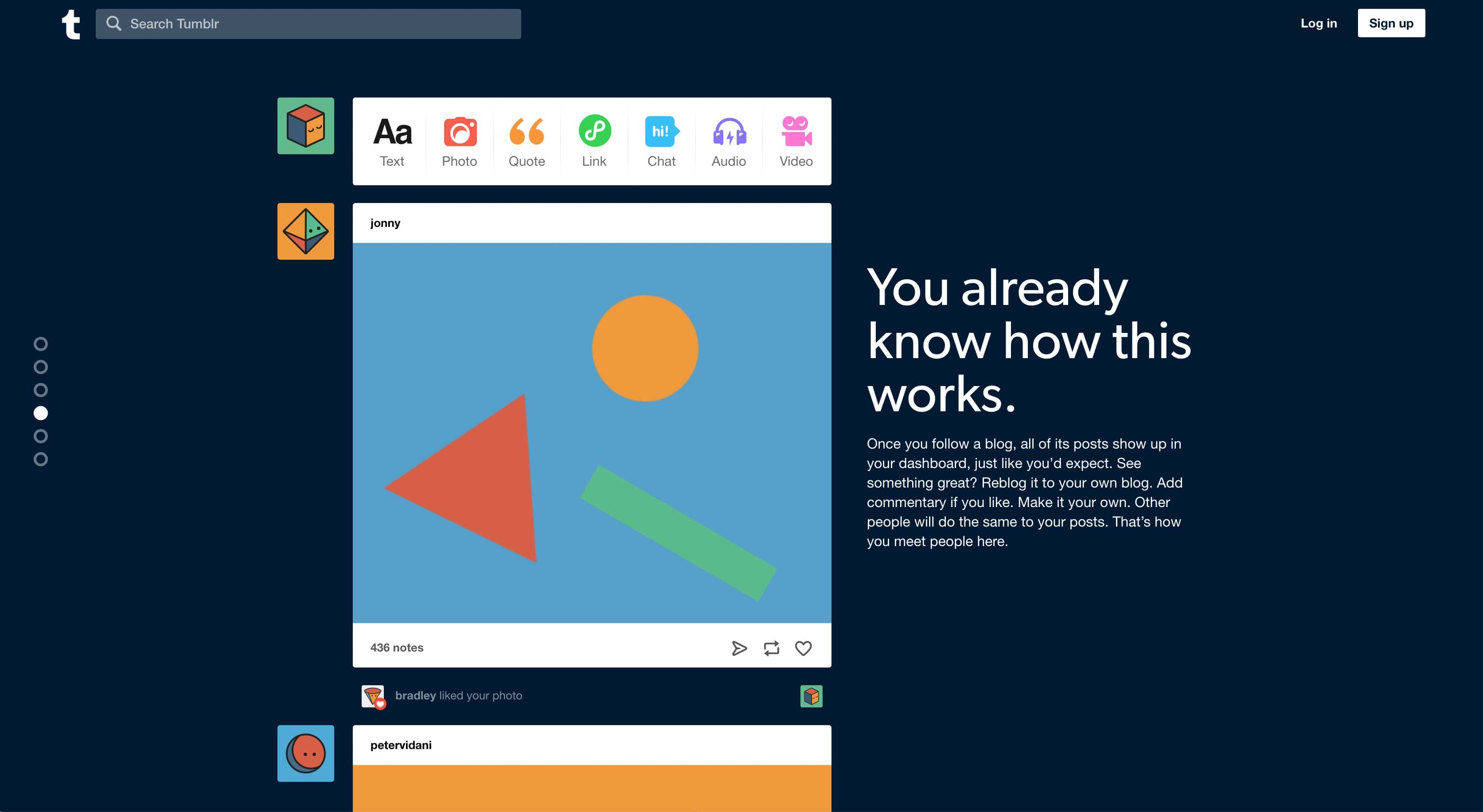 Another great option is Tumblr, they take a different approach to creating content, it feels more social and fun, they provide the ability to add content depending on the media type, such as add an image with a small description or add a full feature blog post with multiple images and videos. It's a great way to just create and contribute content to a vibrant open community.
You have familiar ways to engage with content like you would see in social networks, such as liking or reposting content. Despite all the great ways to add content, tumblr can also feel quite limiting but can be enough for someone who wants to post a lot of small content, as in a single meme or a video.
7. Joomla.org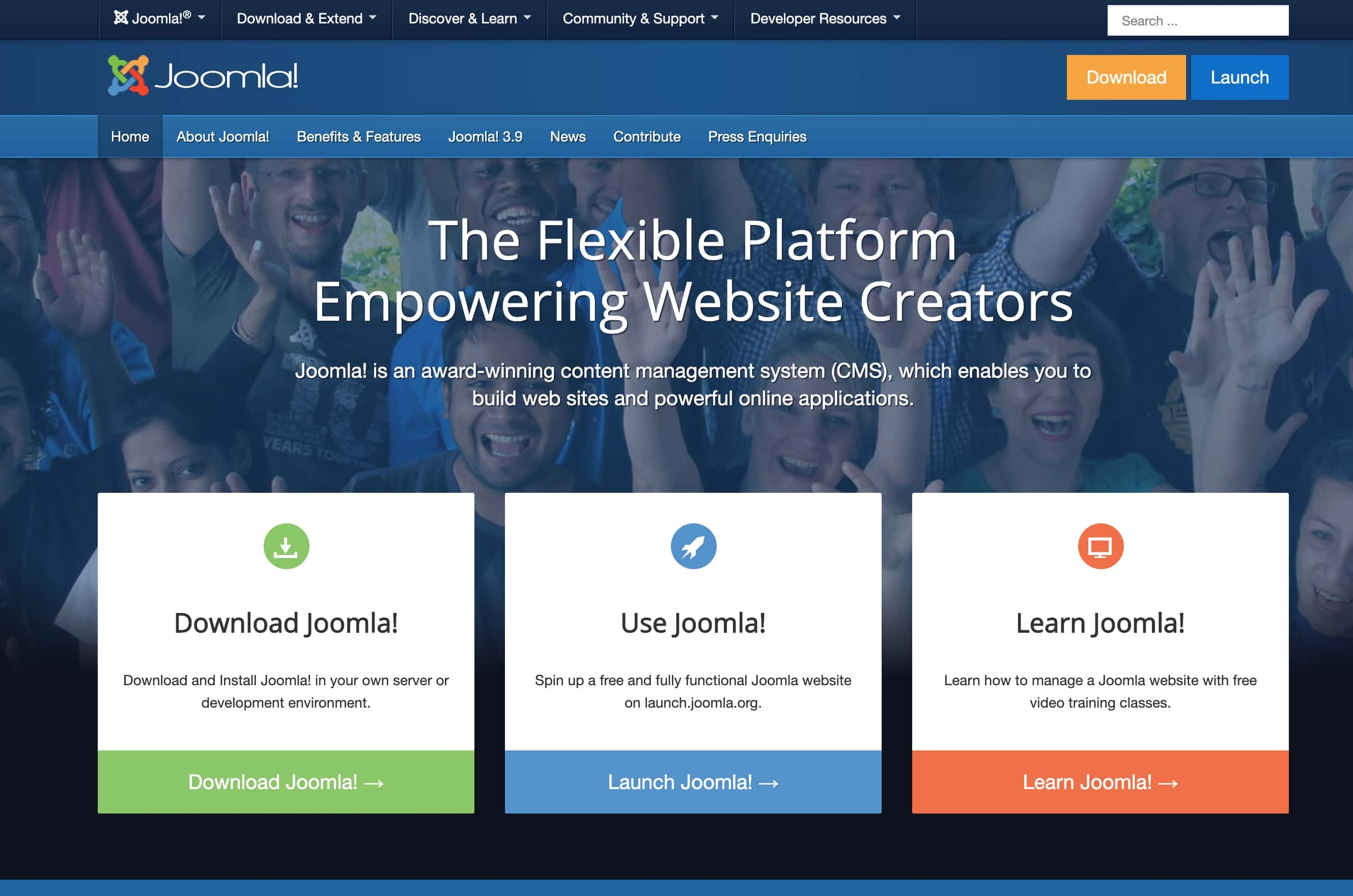 Another option is Joomla.org, this is like Wordpress and Ghost a self-host option, and like the other options, you can easily find a hosting provider who provides an easy way to host Joomla online. Joomla is a powerful content management system that can help you expand your blog in the future into something more. They provide a wide selection of extensions and themes you can easily install and customise.
Hosting your own blog
For more control and to provide greater flexibility in the future as your community of readers increases, you may consider hosting your own blog. Hosting your own blog is great if you perhaps one day want to sell products or even if you want to provide a forum for your readers.
To read into more options when hosting your own blog, check out this helpful guide on some of the best web hosting providers https://digital.com/web-hosting/
But before choosing to host a website, please ensure you have a good understanding on how to host your website and how to maintain your website as it scales. There are tons of tutorials and support online to help you manage your website.
Decide on a specific topic
So once you have decided on how you want to build the technical side of your blog, you now should focus on the content. The best option when starting is to focus on a specific topic, ask yourself, "what do you know so well you can write and promote content around".
Building a niche is the best way to thrive in a world where tons of people are online, building something too generic will stretch you and even scare some readers away from becoming dedicated readers and followers.
A great way to start developing content for a specific topic is to think about several categories revolving around this specific topic, then you can focus on providing content for those specific categories.
Choosing a domain
When deciding on a domain, you need to consider how your brand aligns with the topic you plan to write about. It would be strange to have a domain like mycatsaregreat.com and talk about SEO and marketing, when a visitor may expect a blog about cats. Ensure your domain is easy to remember and aligns with your overall image.
A great website to find a good domain is namemesh.com, they normally link to Godaddy.com, which sometimes has great deals and they provide a safe area to protect your domains.
Some blog providers also provide a domain with a paid package, this is a great way to not have to worry about linking your domain to your host and instead focus on your brand and the content you wish to provide.
SEO, what is it?
SEO is one of the most important topics when providing content and when you wish to grow your blog. SEO stands for Search Engine Optimisation, it is basically how search engines like Google.com and Bing.com decide on how relevant your content is to a user who is searching for a specific topic. The more relevant your content is, the higher it will rank in the search engine result pages (SERP's);
SEO relies quite heavily on keywords, a keyword is a unique or group of words that are matched to your content. Google has gotten a lot more sophisticated on how it determines what websites have what keywords. But when dealing with SEO, keywords are an important factor to align with.
All I can say is keep your content focused around the title of your article and provide valuable content to your reader, I would also recommend you try to ensure your content is accessible to any online person who may be color blind or visually impaired.
The title of your content is the most important part of your article, then it is the first few paragraphs of your article.
Please do not hide keywords on your page since this can have a negative impact, instead focus on providing quality content that is unique or more valuable to a reader.
Open graph
Another important technique to consider is something called Open Graph, these are a collection of meta tags that exist at the top of a blog article that will tell social media networks what to use. With open-graph you can set the image you want to show when someone shares your content as well as the title and description.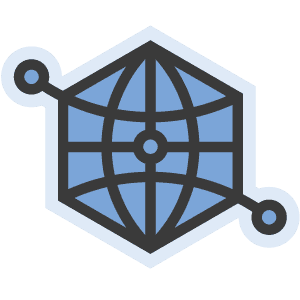 This is a great way to customise the experience for social media readers and truly captivate them to read your content.
Besides growing your blog in Google or in Bing, you should regularly share your content to websites like Twitter, Facebook or even Reddit.com. This is a great place to find and engage new readers who will come and like, discuss and read your content. When this happens, you start to build a following who expect a regular flow of content.
You can look into a number of social media scheduling tools like Buffer.com or Hootsuite.com, they will help you post recurrent content and help you engage with readers on social media who may have questions around your content. They are paid options but are great at relieving the workload of having to manage your social media channels.
Building a following
Once you have your blog up and running, you will want to focus on how to keep people returning and engaging with your content. This is normally easier said than done, but the only advice I can provide is not to spam your readers with modals and popups. If you do want to use a modal or a popup, be responsible and think about the experience of new users to your website.
Embedery is a great option for providing subscribe forms that you can embed directly into the end of your article or in the middle of your article. When embedding a widget in the middle of the article, it could be a great opportunity for your readers to sign up if they think your content is great.
When using a pop up subscribe form, you could embed popover in the bottom right side of your website after they are near the end of your article, this is a great way to prompt your user to make a decision and to decide if your content is worth subscribing too.
You can even show a before leave modal asking for feedback on the article if the visitor didn't subscribe, perhaps your content was not what they were looking for or it was not what they expected. The sooner you know this information, the soon you can optimise and provide relevant content to those lost visitors.
Have a look at another article we wrote to get some popup inspiration
Managing a newsletter
Once you have convinced enough people to subscribe to your blog, the next step will be to manage your newsletter list. The key here is to provide content in a consistent period of time, such as every month or every 2 weeks, it is up to you and how frequently you can produce high-quality content.
When planning on a potential tool to manage your newsletter email lists, some great products are Mailchimp.com or Convertkit.com. They have powerful enough and cost-effective to scale as you grow your blog.
Another important point I should say about running a successful newsletter, ensure your users can unsubscribe and the process should be easy and painless.
A great way to collect emails to build your newsletter is with Popups, take a look at our article on popups that work to help grow your following.
Building a community is an essential step to drive traction around your blog, once you can build your community, these people will comment on your posts and some may become promoters of your content and share it online with their friends and followers.
What is more important about having a community is you start to gain a deeper understanding of the content that works and the content that does not, you can even reach out and talk to members of your community about what they like to read and what is working.
Some great ways to build a community is to use some sort of a discussion platform such as Disqus.com or Facebook comments.
If you consider expanding to offer a store and are looking for some great Shopify apps, check out this article we wrote.
Images, images, images
One of the most important things to have today when providing content are images and media. People are today drawn by images over content, they want something that is easy on the eyes and aligns with some sort of emotional trigger. This can be seen normally on YouTube.com, when you start looking at some of the top YouTube channels, you'll start to see a lot of images with the reaction of the video maker, along with some surprising copy that has you asking "What is making this person react this way?", once you think this, you're hooked and you are watching the video.
So focus on creating great blog images to drive a few more people to your content. One great website for thousands of commercially free images is unsplash.com and one great tool for creating social media images to engage different audiences is pablo.buffer.com by Buffer.com.
Analytics is important, but don't read too much into it.
When you produce content and publish it online, it can be difficult to know what works and what does not. Luckily there are tools to help you, these are Analytics tools. One of the most popular and is free is Google Analytics, this provides quite an advanced view into the traffic engaging with your website. Google Analytics is completely free and is used by a good few high traffic websites.
If you want to host your own analytics, you could look at matomo.org, I don't recommend you focus too much on hosting your own analytics, but it can be a good solution if you want more control over the data and where it is being served. In most cases, Google Analytics should be enough.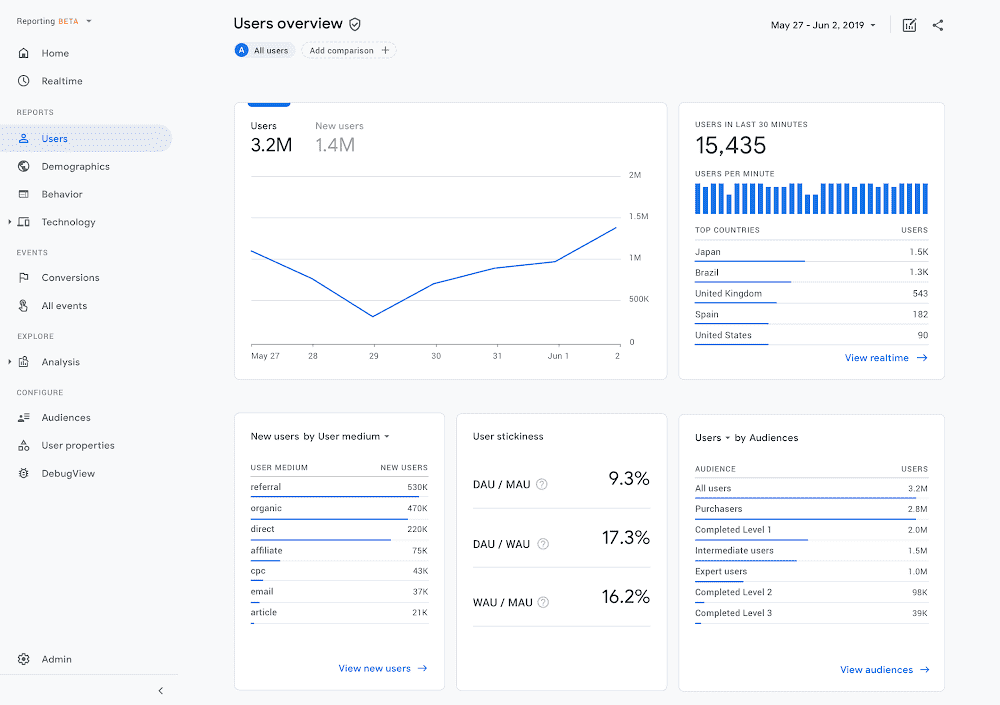 If you choose a paid product like Squarespace or Wix, they normally provide analytics built-in and should give you all you need to truly understand what keywords are working for your website.
Just to mention since your on Embedery.com :), we too provide Analytics but more specifically on how the widgets you have added perform on your website and if the widgets and storyboards are performing as you expect if they are not then you as shown a few different ways to optimise your widgets to engage more visitors.
When focusing on your Analytics, don't worry too much about it, I recommend reviewing your traffic once a week or once a month (Depending on your traffic) and analyse what content is working and where that content is coming from. Sometimes you might see your article being shared on a popular forum and driving a fair amount of readers, when this happens try to find out why it was shared and try to repeat the process using some unique piece of content to see if happens again. In Google analytics you're probably best looking at user acquisition and traffic behaviour to see what content is driving traffic.
Content recycling
One of the last points I'll mention, check out content recycling. Content Recycling is the process of taking your blog posts and converting it into some other type of medium, for example, say you write a blog post, then take all the main headings of the article and convert them into a slide with a brief explanation, before you know it you have recycled your blog article into a Powerpoint presentation. You can then upload this to slideshare.com and drive more traffic to your content and your website. Once its there you can share it on social media, especially on LinkedIn since they own Slideshare and nicely present the presentation.
The same process can be applied to different formats such as:
Convert a blog post to a video and share on Facebook
Convert the video into a podcast and share it on Soundcloud.com
Convert your blog post into a slideshow or into an image slideshow on Instagram
Share quotes of the blog post to Twitter and link to the blog post to drive more traffic.
And so on, there are tons of options once you get the gist of how content recycling works.